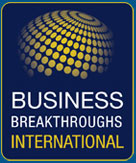 BBI's reputation management service ensures that companies will not be unfairly hurt by web content that may be untrue or defamatory
Pasadena, CA (PRWEB) March 25, 2013
Managing your online reputation has become an integral part of running a business in today's Internet age. Business Breakthroughs International (BBI), a Tony Robbins and Chet Holmes company, recently expanded its Internet marketing division to include online reputation management services.
Many companies have experienced firsthand how a poorly handled interaction with a customer can quickly go viral and spiral out of control. The longevity of the search results means that that content can remain highly visible long after the original incident. This means that businesses who do not actively manage their online reputations risk not only losing potential customers in the present, but in the future as well, or virtually any time a user does a search. Many business owners do not realize that operating their businesses properly and providing superior services will not protect them from the defamation of unethical competitors, ex-employees, disgruntled customers or spammers. The anonymity of the Internet allows anyone to easily post content that may be prejudiced, distorted, or flat-out untrue.
Fortunately, there is now a solution for companies whose reputations have been tarnished online. Business Breakthroughs International (BBI) recently launched online reputation management services as part of its core Internet marketing offerings. The service helps companies remain in control of their brand by aggressively pushing negative content off of the first page of results, where it is less visible and the impact is minimized. BBI's team of reputation experts will set up social media profiles and produce content that presents clients and businesses in the best light. From there, BBI's team of experts will actively monitor the online presence and reputation of its clients.
What most people don't realize is that, to a certain extent, there is a search results bias at work that helps negative news about a person or business spread quickly. Search engine algorithms are designed to return the most popular and relevant results for any search query. Unfortunately, most people are typically more interested in reading and clicking on negative news, signaling to search engines that the information is useful and making it more likely that the damaging content is pushed to the top of the search results.
"Online reputation management is incredibly important from a business standpoint," said Marc Pearl, CEO of Business Breakthroughs. "When someone does a Google search on a business and comes across something negative, they're not going to give the company the benefit of the doubt. They're going to move on and give their business to someone else. BBI's reputation management service ensures that companies will not be unfairly hurt by web content that may be untrue or defamatory."
About Business Breakthroughs
Business Breakthroughs International offers a wide variety of products and services to help businesses to grow and prosper in any industry or economic climate. For more information, please go to http://www.businessbreakthroughs.com.