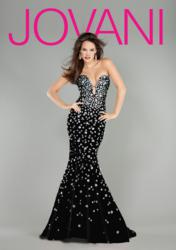 New York, New York (PRWEB) March 25, 2013
The countdown to prom has begun, and while your dresses may be ordered, the finishing touches are still in the planning stages. From what shoes and clutch chosen to compliment the dress, to the perfect hair-do to accentuate the natural beauty of a young woman's face, Prom goes beyond the dress. With that said, your go-to prom gown destination presents their newest blog series, "Jovani Prom 2013: Go Beyond The Dress."
Starting Tuesday, March 26, Jovani will present great tips for high school girls to perfect their prom look for 2013. From choosing the best make up look to the best shoes, these tips will help anyone achieve the ultimate prom experience. The New York-based fashion house, who is an official sponsor for the non-profit, Operation Prom, wants to make prom more than just another special event. Providing the perfect dress for prom is just the first step in giving young women around the country a special night to remember. Jovani's social media series for prom will assist high school prom girls with finding the best accessories to give themselves the ultimate Jovani experience.
Jovani Fashions recently released their 2013 prom collection that features a wide variety of styles, colors, and fabrics that work well with any shape or size. From the plunging back and vibrant yellow color of the lace gown, Jovani style 74194 to the classic glamour seen in the fully jeweled style 4247, a prom favorite, Jovani's gowns make big statements but also need the perfect accessories to complete the best dressed looked.
The perfect dress is nothing without great shoes, amazing hair and a fantastic attitude. The combination gives young women confidence and courage that will make this nigh one to remember. Jovani's Go Beyond The Dress series will be easily accessible to women through their social media pages. From their blog to their Facebook, Jovani will be dishing out the hottest trends to make their fans that more fabulous for prom.
On top of great tips, the eveningwear designer will also hold special fan contests for those following the series. Their continued success as the top prom designer worldwide pushes the New York-based fashion house to give back to its loyal customers and provide them with the best tools to have them looking like stars for any and every special occasion they attend.
Company
Jovani Fashions is a New York-based fashion house that designs and manufactures luxurious formal dresses and couture gowns. The world-renowned brand sells to over 3,000 specialty stores worldwide, including major department stores such as Neiman Marcus, Nordstrom and Bloomingdales. Jovani offers an extensive collection of evening gowns, bridal and chic cocktail dresses, in addition to their embellished couture designs. Jovani dresses are a favorite among A-list celebrities and editors, and they can be seen all over the red carpet and inside the pages of high-fashion editorials.
Contact: Felicia Garay-Stanton
Phone: (212) 279-0222
# # #