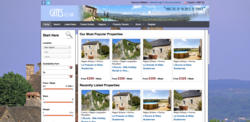 (PRWEB UK) 26 March 2013
Launching this month, the site aims to become the number one choice for holidaymakers looking for self​catering properties in France.
Competing with the "big players" such as Holiday Lettings and Owners Direct, the site is designed purely for the French market.
"Many of the bigger holiday rental sites operate in several markets and, by necessity, their offerings are not tailored specifically to the French market," said founder Duncan Pollard.
"Gites.co.uk only lists properties in France, so we can best serve both home owners and holidaymakers."
A true Francophile, Pollard has been a regular visitor to France since childhood, often staying in gîtes and villas across the country.
Frustrated with current property rental websites, which try to cover the whole of Europe and beyond, he decided to launch a website dedicated to the French market.
"With gites.co.uk focusing solely on France, we can customise the website to best showcase French properties to the benefit of owners and holidaymakers. France is a fantastically diverse country and deserves more than just an entry on a worldwide directory of properties," said Pollard.
In order to maximise bookings, the site has acquired a prime domain name and is optimised for key search terms. A paid campaign on Google will deliver high quality visitors to property listings.
With simple but flexible search facilities, gites.co.uk will provide highly targeted leads to home owners.
Holidaymakers can search gites.co.uk for whatever they are looking for, whether it be a heated pool, WiFi, or even countryside views.
"Providing what holidaymakers want, from a rustic gîte in Provence to a luxurious ski chalet in Rhône​Alpes, is key to us delivering bookings to our owners," said Pollard.
Owners are free to speak to holidaymakers direct, and to arrange terms and payment. Gites.co.uk does not intervene in the booking process in any way.
"We believe owners are best placed to handle their own bookings without being made to accept imposed terms, or waiting months for payment from a third party," said Pollard.
"Gites.co.uk provides the leads and owners do what they do best ​ look after the holidaymaker."
Gites.co.uk also offers a number of value​ added services to home owners, including listing translations into target languages, production of promotional videos for properties, and, longer term, it plans to offer aerial photography and video to showcase truly exceptional properties.
As an introductory offer, gites.co.uk is offering free listings for 12 months with no strings.
Owners and agents are invited to take this offer up for a limited time at http://gites.co.uk/offer-free-listing.
Duncan Pollard is available for comment at duncan(at)gitesDot)co(dot)uk or 07515 680494.
Photography is also available on request.