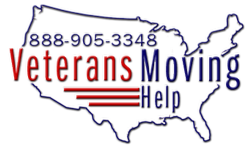 When you hire us, you are helping put veterans to work and saving money over more expensive full-service movers so everyone wins. These people have served their country and deserve our support.
Gainesville, Fl (PRWEB) March 26, 2013
Gregory Sledge, U.S. Army Veteran was volunteering at a local soup kitchen and what he saw broke his heart. Many of those eating were military veterans who he knew had received excellent training and were highly disciplined. Soaring unemployment rates for vets returning from Iraq and Afghanistan have been a national disgrace, 12.1%, and well above the national averages. Gregory knew something had to be done and decided to make it his mission to do something to help. He founded Veterans Moving Help, the nation's first moving and labor company that focuses on employing vets.
Veterans Moving Help has become so busy in Gainesville, Florida that the fledgeling company now is in need of its own moving truck to handle the many local moving jobs for students from the University of Florida. Banks and Credit Unions are hesitant to loan to young companies so Greg has creatively employed crowdsourcing giant IndieGoGo.com and is now asking for your help. "For the price of a latte or cup of coffee you could help us reach our goal and purchase our first moving truck. Most importantly, please share with your friends, family and your coworkers. They might want to help as well."
The IndieGoGo campaign will be open until through May 10th, 2013 and Greg and his entire team of Veterans thanks everyone for their support. "This purchase is only the first step. Our goal is to provide our teams all over the country with trucks and other resources so they can expand the services they offer as well." Currently Veterans Moving Help provides loading and packing services for rented moving trucks, PODS and other storage containers. Emergency, "last minute rescue" services have also been a specialty as of late and Greg hopes to expand to all 50 states by the end of 2013.
Veteran's Moving Help LLC was founded in 2011 by U.S. Army veteran Gregory Sledge and has quickly grown into a nationwide moving labor service. They gladly guarantee 100% satisfaction and appreciate your support in helping them accomplish their primary mission of putting fellow veterans back to work.