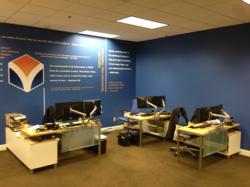 We are absolutely thrilled with the functionality and aesthetic of our office space as executed by WorkSquared.
Northville, MI (PRWEB) March 27, 2013
Vision Computer Solutions, a Michigan computer consulting company, recently enlisted the help of WorkSquared, a contract office furniture dealership in Novi, to create their ideal office space.
With a brand new 2,800 square foot office as a blank canvas, WorkSquared interviewed Vision Computer Solutions' staff and assessed their needs, a critical step to create an effective office design. "Vision expressed to us that they wanted a space that promoted collaboration, yet their previous location was all separate rooms and walls," explains Meaghan Short, account manager at WorkSquared. "So we observed their layout and set up, as well as how their engineers, technicians and management operated. We then translated it all into a comprehensive, sophisticated design."
Being a Michigan technology services company, one of Vision's design challenges was their abundance of visible cables and wires. They wanted a set up that would allow them to function seamlessly, while masking the messy look of these cables. WorkSquared had the perfect solution and brought in the latest advancement in office furniture technology from Herman Miller: Canvas™ Powered Storage.
Canvas™ Powered Storage is the newest addition to Herman Miller's Canvas™ Office Landscape product line; a comprehensive set of workspace elements to create an entire office landscape while keeping consistency and harmony between different work environments. The powered storage unit offers multiple benefits, the main one being that it allows for power to be run through each unit while hiding the exposed cables and wires. This alleviates the unorganized look of exposed cables as well as any potential injury hazard.
In addition to the Canvas™ Powered Storage, WorkSquared's design plans included three private offices, five stations for technicians and two transitional stations for engineers. Because the engineers often require more privacy, each station was outfitted with sliding doors to easily transition from an open-air environment to a private office space. Each station and private office also includes the Canvas™ Powered Storage.
"We knew how we wanted our new space to function, but as computer technicians and engineers, we had no idea how to execute a proper office design," said Kevin Mooney, vice president of operations at Vision Computer Solutions. "We are absolutely thrilled with the functionality and aesthetic of our office space as executed by WorkSquared. They took our vision and nailed it."
Vision Computer Solutions and WorkSquared are currently in talks to complete additional projects. The next phase of Vision's office design will include more Canvas™ Powered Storage units and workstations, as well as a collaborative meeting room that will match the existing design and support the additional staff Vision Computer Solutions plans to hire.
About Vision Computer Solutions:
Vision Computer Solutions provides zero-hassle, predictable-cost information technology and computer services support for small-to-midsized companies in Michigan. With dedicated IT engineers, proven processes and a 100% no-hassle network uptime guarantee, Vision Computer Solutions simplifies information technology management for healthcare, nonprofit, professional services and manufacturing clients. Contact Vision Computer Solutions today.
About WorkSquared:
WorkSquared is an office furniture dealership for every workspace furniture need. With showrooms in Grand Rapids, Kalamazoo, Lansing, Novi, Troy, and Traverse City, WorkSquared offers total convenience with statewide Michigan coverage. The company is a certified Herman Miller dealership and a 4-time recipient of the prestigious Herman Miller Customer Satisfaction Award. This renowned distinction is presented to only one office furniture dealership in North America. Industry specializations include healthcare, commercial business, higher education and government. WorkSquared is proud to be a certified Woman Owned Business. For more information visit worksquared.com or call 855.242.W2W2.