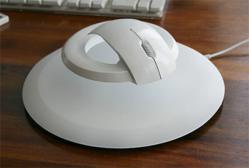 Here at Asons Solicitors, we deal with a wide variety of Carpal Tunnel claims caused by the use of traditional keyboards and equipment, so it's great to see some new developments in this area to prevent future cases from occurring
Bolton, UK (PRWEB UK) 27 March 2013
With soaring numbers of Carpal Tunnel cases worldwide since the early 90's, the risk of Carpal Tunnel has been closely linked to the repetitive nature of keyboard centric office roles.(1) Mr Vadim Kibardin, a German designer, believes he has the answer – a floating mouse that eases the pressure applied to the wrist during use. Asons Solicitors believes that if proven useful, his device may help to reduce the number of Carpal Tunnel claims in the workplace.
Carpal Tunnel Syndrome can cause significant pain to an individual and can affect their lives in a very negative way; this new mouse design looks to prevent this, by preventing the swelling that can be caused by excessive and repetitive computer use. With more severe cases of Carpal Tunnel Syndrome, medication is needed to ease the pain; the most widely used treatments are include steroidal injections into the wrists, wearing a splint to keep the wrist in an open position, and in more extreme cases, surgery is needed to release the carpal ligament.
The negative consequences of Carpal Tunnel Syndrome are well known and the responsibility to prevent it, lies primarily with the employer. Employers are legally obliged to ensure that employees are working within a risk free environment.
With that said however, there are few measures that can be taken within an office environment to prevent Carpal Tunnel syndrome. That was until German designer, Vadim Kibardin proposed a revolutionary new way to prevent Carpal Tunnel in the work place.
Mr Kibardin's new concept design for a levitating mouse is designed specifically to ease the suffering of workers that deal with Carpal Tunnel syndrome on a daily basis. It is worth noting however, that scientific studies have yet to determine the alleged benefits of using this mouse to ease the discomfort of Carpal Tunnel syndrome.
Carpal Tunnel is triggered when the tendons around the nerve become inflamed, increasing pressure around the nerves causing impairment. This can bring on feelings of pain, numbness, tingling and pins and needles which can cause pain and aggravation duringin day to day activity. The theory behind Mr Kibardin's mouse, is that by reducing the pressure induced through mouse usage, the symptoms of Carpal Tunnel Syndrome can be eased. (2)
The wireless computer mouse named 'The Bat', consists of a base, a mouse pad, and a floating mouse with a magnetic ring. The mouse levitates to a height of 40mm, where the magnets repel from either side of the device. Once pressure is applied to the mouse, it will hover around 10mm above the platform, giving the user a good angle to allow the blood to keep flowing freely through the wrist, preventing the inflammation and blockage that can cause pain in sufferers.(2)
Commenting on the development of this new technology, Asons Solicitor's Marketing Executive, Miss Suzanne Yates said that:
"This is an interesting development. Legally speaking, employers need to do all that they can to ensure that employees are able to work in a risk-free environment. Revolutionising the tools that employee's use on a daily basis, to make them more ergonomic, is a great way to go about this. Here at Asons Solicitors, we deal with a wide variety of Carpal Tunnel claims caused by the use of traditional keyboards and equipment, so it's great to see some new developments in this area to prevent future cases from occurring"
Asons Solicitors have a wealth of experience in dealing with Carpal Tunnel compensation cases and have been exposed to a variety of working practices that endanger the health and safety of employees on a regular basis. As such, they advise victims of Carpal Tunnel to recommend improvements to their employers to make their position less uncomfortable. Innovations like these could be recommended to make significant imrpovements.
Asons provides advice and guidance to victims of Carpal Tunnel Syndrome, so if you have been affected by Carpal Tunnel at work, they advise that you come forward. They can be contacted on 0844 850 1062 or you can visit their website for more information at [1 webmd.com/fitness-exercise/news/20030610/typing-rarely-cause-of-carpal-tunnel
[2] complex.com/tech/2013/03/levitating-computer-mouse-wondrously-saves-wrists-from-carpal-tunnel
About Asons Solicitors:
Asons Solicitors is a Bolton-based law practice that specialises in personal injury and industrial disease claims. Founded by brothers Imran Akram and Kamran Akram, Asons Solicitors has developed to become a young and dynamic law firm that delivers practical solutions to clients in times of difficulty. Their continued focus on their staff has seen them awarded with the Investors in People "Gold Award"; which is reflected in the professional and personable approach they take in working with clients. They strive to grow and to develop, and their supportiveness and attention to detail ensures that their clients use them time and again.
For further information contact:
Email: info(at)asons(dot)co(dot)uk
Website: http://www.asons.co.uk