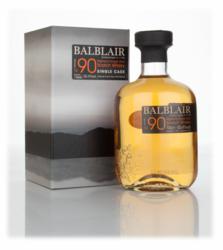 This Single Cask Scotch Whisky has acquired its smoky flavour through non-traditional methods.
Tunbridge Wells, Kent (PRWEB UK) 26 March 2013
As part of its lauded range of vintage whiskies, Balbair Whisky Distillery in the Highland region of Scotland has produced a limited-edition bottling of a peated whisky. Atypical of the regional style, this Highland whisky provides a soft sweetness balanced with a smooth and subtle smokiness.
This Single Cask Scotch Whisky has acquired its smoky flavour through non-traditional methods. Instead of producing a spirit made from peated barley, Balblair distillers chose to mature this special bottling in casks that had previously held an Islay Whisky. Thus, the warm, peaty flavours have permeated the classic honeyed sweetness to produce a single malt which is unlike any other.
Distilled in 1990, this ultra-rare Single Cask Whisky was aged in Cask 1466, an American Oak Barrel which previously held an Islay Single Malt Whisky. Master of Malt is proud to be the exclusive retailer of Balblair 1990 Islay Cask 1466.
Balblair 1990 Islay Cask 1466 – 50.40% – £124.95
Nose: What the deuce? Some kind of trick, surely. This smells overwhelmingly, potently, of delicious, freshly squeezed apple juice. Copella Apple Juice to be precise. One of the most sweet, and fruity whiskies we've come across in a long time. The Bourbon cask has clearly had some influence here. Given time in the glass, there is a development of very subtle peat, which complements without ever being intrusive. A touch of cinnamon and brown sugar to go with the apple. Lovely Stuff.
Palate: Following an initial hit of mid-80's tuck-shop sweetness (Refreshers of both sorts – chewy and chalky), the peat is immediately apparent here. Becomes much more savoury than the nose and initial palate would suggest. Initial short-crust pastry notes (buttery, too) are fleeting, giving way to caramelised bananas, and a touch of Nasturtium leaf. Becomes more grown-up than the nose hinted. The best of both worlds?
Finish: Herbaceous. Mint, and parsley give way to the seam of peat, which given time becomes more menthol than phenol. Hints (but only hints) of bitumen and ash meld into one delicious, fruity, gristy, meaty 'ball'.
Overall: This whisky has got that rare 'x-factor' which can only be described as 'huge', and very 'spherical'. It starts sweet as you like on the nose, but the palate and finish progress beyond the simplicity that can sometimes be implicit with that term, and meld together into a seamless experience of mouth-filling flavour. Nothing is missing here, everything is balanced. Great Whisky.
Balblair 1990 Islay Cask 1466 is now available exclusively from Master of Malt.
###
About Master of Malt:

Established in 1985
Master of Malt is one of the UK's leading Online Whisky & Spirit Merchants, with a huge
range of whiskies, rum, brandies, gins, cocktails and many other fine spirits.
UK Next Day Delivery from £6.95
Follow Master of Malt: