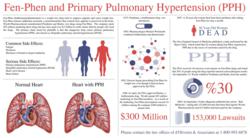 (PRWEB) March 26, 2013
According to a PBS Frontline article, fenfluramine and phentermine were first combined to make Fen-Phen in 1983, when pharmacologist Michael Weintraub hypothesized it would be an effective combination (i). The article notes that Fen-Phen did not become popular until 1996 when Wyeth Pharmaceuticals spent $52 million to market the drug. The company received a $300 million return on its marketing investment for that year.
The following year Fen-Phen was the subject of less than favorable press and Wyeth removed the drug from the market. In February of 1997, the Boston Herald published an article about a 30-year-old woman who died from heart problems after taking Fen-Phen for only one month (ii). In August of the same year, the New England Journal of Medicine published a Mayo Clinic study that followed 24 women (iii). The study found that "echocardiography demonstrated unusual valvular morphology and regurgitation in all patients." Additionally, "eight women also had newly documented pulmonary hypertension." On September 15, 1997 the FDA announced that Fen-Phen was being removed from the market because of the Mayo Clinic study and 66 additional cases of similar heart problems reported to the FDA (iv). The FDA determined that 30 percent of Fen-Phen users who were evaluated demonstrated unusual echocardiogram results.
"We released this infographic in order to inform people who have used Fen-Phen that in some cases possible injuries may not manifest themselves until months or years after taking the drug," said attorney Paul d'Oliveira. "A person should not be barred from recovery just because he or she did not and could not discover an injury at the time a drug was discontinued."
The Fen-Phen infographic lists possible side effects of the drug and compares a normal heart to the possible changes Fen-Phen can make within a heart. Additionally, the infographic provides information from the Forbes Magazine article, "Bad Medicine," which states that 153,000 lawsuits have been filed and $13 billion have already been paid by Wyeth (v). Visit the Fen-Phen webpage and view the infographic here: [Fen-Phen Infographic.
If you or a loved one has been injured using Fen-Phen, you may want to speak with a personal injury lawyer regarding a potential claim. A dangerous drug lawyer familiar with new developments in the investigation of the weight loss drug may be able to assist you in making important personal and legal decisions. Our firm is working with some of the most experienced Fen-Phen lawyers in the country who are handling these cases.
Please contact the law offices of d'Oliveira & Associates at 1-800-992-6878 or fill out a contact form for a free legal consultation.
(i) pbs.org/wgbh/pages/frontline/shows/prescription/hazard/fenphen.html
(ii) pqasb.pqarchiver.com/bostonherald/access/11667452.html?dids=11667452:11667452&FMT=CITE&FMTS=CITE:FT&type=current&date=May+6%2C+1997&author=ED+HAYWARD&pub=Boston+Herald&edition=&startpage=001&desc=Diet+to+Death+Woman+killed+by+fen%2Fphen%2C+suit+alleges
(iii) nejm.org/doi/full/10.1056/NEJM199708283370901
(iv) fda.gov/Drugs/DrugSafety/PostmarketDrugSafetyInformationforPatientsandProviders/ucm179871.htm
(v) forbes.com/forbes/2003/0901/048.html