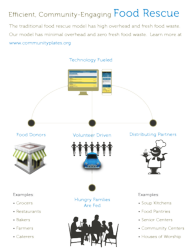 Go Rescue is built on a PaaS – platform-as-a-service – allowing us to readily add new features. In addition, it's a technology that can easily be adopted by other nonprofits looking to streamline operations and further engage and utilize volunteers.
Norwalk, CT (PRWEB) March 26, 2013
IDG's Computerworld today announced that Community Plates' Go Rescue technology, powered by WhenToManage, has been selected by a panel of 22 distinguished judges as a 2013 Computerworld Honors Program Laureate. The annual award program honors visionary applications of information technology promoting positive social, economic and educational change. Community Plates is a technology-fueled, volunteer-driven, nonprofit organization that rescues surplus food from supermarkets, grocers, and restaurants, and distributes it directly to local receiving agencies that serve individuals and families in need. There are an estimated 50 million food-insecure individuals in America, of which 1 in 5 are children under 5 years (according to the USDA).
"There is no reason for any American to go hungry with our country's ample food supply. We simply need better logistics which is exactly what the Community Plates' model provides," said Kevin Mullins, executive director and co-founder, Community Plates. "Our goal is to END food insecurity in America and we are honored to be recognized by Computerworld for the technology that is playing a vital role in advancing this goal."
Community Plates was launched in 2010 by WhenToManage. As an innovator of cloud-based software for the restaurant, hospitality and retail industries, WhenToManage recognized the opportunity to streamline the food rescue process through technology and proceeded to develop the Go Rescue App. The traditional food rescue model relies on multi-layered infrastructure and excessive food handling via fleets of trucks, drivers and warehousing, requiring high overhead and too much time to allow for the transfer of perishable, fresh food. Utilizing the Go Rescue App and volunteer food runners, Community Plates eliminates much of this overhead, while delivering fresher (and thereby healthier) food directly to those in need.
"The Go Rescue App provides a unique 'self-serve volunteer management system' through which volunteer food runners sign-up for food runs, receive details, and track information in real-time while in the process of transferring rescued food," said Jeff Schacher, CEO and founder, WhenToManage. "Go Rescue is built on a PaaS – platform-as-a-service – allowing us to readily add new features. In addition, it's a technology that can easily be adopted by other nonprofits looking to streamline operations and further engage and utilize volunteers."
"Technology continues to play a pivotal role in transforming how business and society functions. For the past 25 years the Computerworld Honors Program has had the privilege of celebrating innovative IT achievements," said John Amato, vice president & publisher, Computerworld. "Computerworld is honored to recognize the outstanding accomplishments of the 2013 class of Laureates and to share their work. These projects demonstrate how IT can advance organizations' ability to compete, innovate, communicate and prosper."
The Computerworld Honors Program awards will be presented at the Gala Evening and Awards Ceremony on June 3, 2013 at the Andrew W. Mellon Auditorium in Washington, D.C.
About Community Plates
Launched and headquartered in Fairfield County, CT, Community Plates also operates in Albuquerque, NM and Columbus, OH, with plans to expand to a dozen additional markets by 2014. More than 650 volunteers have transferred food equivalent to over a million meals to date, served to food-insecure individuals and families through food pantries, soup kitchens, and community centers. For more information or to get involved visit: http://communityplates.org.
About WhenToManage
WhenToManage is comprised of a team of professionals with years of true restaurant operations experience from the top down, and a passion for creating software that they, in turn, would be excited to use. The result is a restaurant operating system that is more accessible, easier to use, and requires less training and support. WhenToManage offers subscription-based solutions for POS intelligence, inventory management and employee scheduling, as well as customized deployments. For more information, please visit http://whentomanage.com.
About The Computerworld Honors Program
Founded by International Data Group (IDG) in 1988, The Computerworld Honors Program is governed by the not-for-profit Computerworld Information Technology Awards Foundation. Computerworld Honors is the longest running global program to honor individuals and organizations that use information technology to promote positive social, economic and educational change. Additional information about the program and a Global Archive of past Laureate case studies and oral histories of Leadership Award recipients can be found at the Computerworld Honors website http://events.computerworld.com/2013Honors.