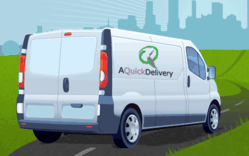 Atlanta, GA (PRWEB) March 26, 2013
AQuickDelivery, a leading same-day courier, messenger and transportation service provider nationwide, announces same-day call by noon delivery service. The service is in an effort to provide a variety of delivery options that promote client loyalty, competitive pricing and sales growth. AQuickDelivery strives to be the courier of choice for same-day delivery solutions in Georgia and throughout the US.
The same-day call by noon delivery service can be found available on the AQuickDelivery website when a client is placing an order or requesting an online quote. The service is defined as the pick up time is before noon, and the deliver time is by 5:30pm. This is a specific time perimeter for the same-day call by noon delivery service. A client can submits their service or quote request online and will find the same-day call by noon delivery service available. Clients can call customer service and request the same-day call by noon service as well. Customers are recommended to call customer support regarding any special instructions to enable the courier to perform their delivery correctly.
The same-day call by noon delivery offers customers many benefits. This service will always be less than their standard regular 2.5 hour delivery service option. The service provides the best pricing for service requests that allow the AQuickDelivery to deliver after 5:30pm, with most businesses closing at 5:00pm. This additional timeframe gives the same-day courier more time to deliver their clients' packages as well. AQuickDelivery will continue to promote saving options, optimal courier solutions and create premium value-added services that meet their specific client needs.
AQuickDelivery is a leading same-day delivery courier service for messenger, distribution and transportation services. From small packages to palletized freight, AQuickDelivery performs their courier service fast. The Roswell courier provides superior customer care, optimal delivery expertise, and modern courier technology to offer the best in same-day delivery logistic solutions. Based in Atlanta, Georgia, AQuickDelivery provides quality same-day delivery services to a growing list of over 1,500 clients, including Fortune 500 Companies nationwide.