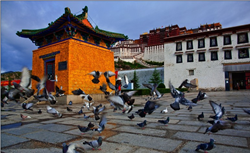 (PRWEB) March 27, 2013
Explore Tibet is glad to announce that Tibet travel permit will re-open to foreign tourist start from April 1st , with no group size limitation, and no mixed nationality limitation—groups of different nationalities can travel together.
On Mar, 25th, Tibet tourism Bureau gave an official notice that Tibet will be open on April 1st. This means restrictions on foreigners traveling to Tibet have been lifted by the Chinese government.
In 2012, the regulations handed down by the Tibet Tourism Bureau (TTB) state that foreigners need to be in a group of five people who are all from the same nationality. This means that all five people in your group must carry the same nationality passport.
In spite of the restrictions, Explore Tibet, a Lhasa-based Tibet group tour company, has managed to secure permits for foreigners wanting to travel to the region in 2012.
One of the company's clients, who travelled to the region last year, said, "It was a great adventure to plan this Tibet tour. There were lots of different rumors on the internet and many lines of uncertain information. Some travel companies informed us that, because we were only two people, it would be impossible to get permits in November. Then finally Explore Tibet was able to get us the permit without any problem and it was really great trip and would like to pay our sincere thanks to Explore Tibet for their excellent work of getting the Tibet permit 2013."
Explore Tibet is a locally-owned travel agency committed to responsible tourism, Tibetan travel permit and sustainable practice.