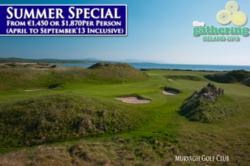 We take great pleasure in watching our clients enjoy themselves. Our Pleasure is witnessing their enjoyment
Dublin, Ireland (PRWEB) March 29, 2013
Escape to Golf are the most competitively priced in the Tourism Market when it comes to a Golf Holiday in Ireland.
Escape to Golf provide a vast array of knowledge of the activities and experiences unique to Ireland. The Team have sought out the best of the best, which Ireland has to offer. Holidays are based on the most accommodating and luxurious hotels and castles available. Self-catering can be arranged at fantastic locations close to amenities, which suit the tourist's needs.
Escape to Golf will tailor make a holiday to suit all needs and requirements. The team will be there to assist with any minor hiccup's which can occur (though rarely) on any holiday or break.
Escape to Golf reward Loyalty. Book a Trip with Escape to Golf and a discount of 10% is offered on when you book another holiday.
Dave McGowan, the Executive Director of Escape to Golf believes that a Golf Vacation in Ireland should deliver the best Golf Courses with a mix of warm hospitality and some great other activities also. He goes onto say, "A typical golf holiday tends to be a full on experience; in terms of the amount of golf played and off course the refreshments afterwards- which is all part of the journey but other experiences are rarely included which is a shame really, when you think of what is available here in Ireland."
"The Escape to Golf Team have created some exciting Packages online which give our clients something to think about. We have traveled the country and spoken with the best hotels and golf courses. Our hands on personnel approach will give the ultimate experience to our clients when they come to Ireland." It is comforting to know that The Escape to Golf Team are on the ground working hard with the best golf clubs and Hotels, so that they can offer very competitive packages with a personal touch. Dave states, "Our business is to ensure our clients are well received, they are looked after as best as possible throughout their stay, and that they feel like it's a wonderful experience. We take great pleasure in watching our clients enjoy themselves. Our Pleasure is witnessing their enjoyment."
That personal touch relates to the fact that Escape to Golf is a family run company. The fact that they are located in Ireland, they know everything about Ireland to help create that dream holiday.
When asked about the type of groups they cater for, Dave replied, "We welcome all types of groups; family, corporate or just a couple getting away for a long weekend. No group is too big or small for Escape to Golf. For anyone who likes the idea of travelling to Ireland but are unsure of where to go or what to include in their trip to make it feel like a great holiday, they should contact our team. We listen to your ideas and match them into a package that suits your needs and likes, that's what we specialize in."
So, it looks like Escape to Golf have their homework done for organizing a Golf Vacation in Ireland. They have teamed up with golf courses ranked in the world's top 30 courses and the best hotels in Ireland. Self-Catering premises and chauffeurs have also teamed up with Escape to Golf along with Horse racing venues, fishing guides; tour guides and everything you really need when planning a trip to Ireland.
Their website is ecapetogolf.com, a very tasteful website that does give a variety on packages and it has a template for personal preferences; fill that out and they respond very quickly to answer any queries. Dave mentions, "We have developed an eye friendly website which is easy to navigate and highlights our packages effectively. We are looking forward to the rest of 2013 and are already taking some bookings for 2014. This year is such a great year to see Ireland. It is the year of the Gathering and there is now, more than ever, so much to see and do. "
Simply contact the team at Escape to Golf and Quote "Mc Ilroy for 19" for discounted pricing.
"Like us" on Facebook or follow us on twitter or Pinterest and we will knock a further $25 of your next booking with Escape to Golf or enter our competitions on Facebook with a great chance to win prizes.
Note: Promotional Offers remain until 31st July 2013.