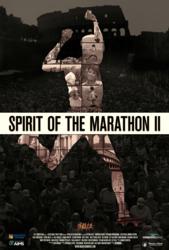 Boston is the hub of the running universe during marathon weekend - this film festival may be the best way to celebrate the beauty of our sport. - Bill Rodgers, four time Boston Marathon champion.
Boston, MA (PRWEB) March 25, 2013
Run Against Cancer Events (RACE), producers of charitable running events in the Greater Boston area, today announced it will host the inaugural Boston Running Film Festival at the Hynes Convention Center from Friday April 12th through Sunday April 14th. The festival will feature 19 full length and short films about running, selected from submissions by filmmakers as nearby as Jamaica Plain, MA and as far away as New Zealand.
The three day film festival will be a welcome reprieve to many of the 80,000 people expected to visit the Hynes during Patriots' Day weekend for the John Hancock Sports and Fitness Expo, including over 30,000 runners competing in the B.A.A. 5K on Sunday and the Boston Marathon on Monday. The festival will include six themed blocks of films as well as panel discussions with film directors and running celebrities, including Bill Rodgers, four time winner of both the Boston Marathon and New York City Marathon. Emmy Award winning director Erich Lyttle will attend the screening of his film There Is No Finish Line, a documentary about Maine's Joan Benoit-Samuelson, the first women's Olympic marathon champion. The highly anticipated Spirit of the Marathon II, which follows seven runners' journeys to the Rome Marathon and is due in theaters this summer, will release an extended trailer at the festival.
Ticket sales begin today and can be purchased at racemenu.com/runfilmfest. A full list of official selections along with film information, trailers and screening schedules are available at runfilmfest.org.