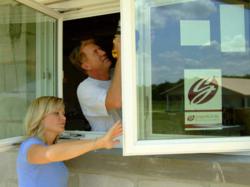 Columbus, OH (PRWEB) March 26, 2013
According to the REMODELING 2012-13 Cost vs. Value Report (http://www.costvsvalue.com) homeowners can recoup 71.2 percent of their costs when replacing existing windows in their home with energy efficient vinyl windows. This results in a vinyl window replacement project having more return on investment for consumers than adding another major home upgrade, like remodeling a bathroom, kitchen or sunroom.
The report states that a mid-range window replacement project is estimated to cost a homeowner an average of $9720. Of this amount, the consumer should recoup $6961 of that investment (or 71.2 percent) when they're ready to sell their home. This figure is up several points from the 2011-2012 Cost vs. Value Report, showing that investments in vinyl replacement windows is on a rising trend across the nation.
"In actuality, replacing older windows in the home with energy efficient windows helps a homeowner save on energy expenses from the day the vinyl windows are installed," says Gary Pember, vice president of Simonton Windows. "Consumers have a 'one-two punch' of savings when they add vinyl home windows. First, they should save on current energy bills, and second, they may recoup a large amount of the dollars invested on the window replacement project when it's time to sell their home."
Pember points out that, according to the Cost vs. Value Report, vinyl window replacement projects have a higher return on investment than adding a sunroom, master suite or garage to a home. "This report also shows that vinyl replacement window projects have a higher return on investment than a kitchen, bathroom or basement remodeling project," says Pember. "While some 'wish list' home improvement projects may enhance the living space, replacing existing windows with vinyl replacement windows clearly is a smarter investment for both the short- and long-term."
REMODELING's prestigious Cost vs. Value Report compares construction cost with resale value for popular home improvement projects in 81 U.S. markets. REMODELING magazine reaches 85,000 remodeling professionals who are the top influencers, specifiers and purchasers of products and services in the $299 billion remodeling industry. Construction costs for the report are provided by RemodelMax, a remodeling estimating software company. Resale value data are aggregated from estimates provided by members of the National Association of Realtors through an email survey broadcast by Realtor Magazine. Indianapolis-based The Farnsworth Group, a market research company, hosts the Web-based survey, collects and compiles the data, and provides pre-and post-survey consulting.
About Simonton
Simonton Windows produces ENERGY STAR® qualified replacement and new construction windows and doors, including a line of impact-resistant products. Simonton has been ranked "Highest in Customer Satisfaction with Windows and Doors, Three Years in a Row" by J.D. Power and Associates.
Simonton was also ranked #1 in quality in the 2012, 2009, 2007, 2002 and 1998 Brand Use Studies sponsored by Builder magazine and has won three Best In Class Awards administered by LBM Journal Research Institute.
Founded in 1946, Simonton's hallmark has been to deliver the industry's shortest, most dependable lead-times. Part of Fortune Brands Home & Security (NYSE: FBHS), Simonton delivers award-recognized products to key markets throughout the 48 continental United States and North America. Simonton is a Founding Sponsor of The Weather Museum, a Lifetime Founding Sponsor of the Lead Safe America Foundation, and a supporter of Homes for Our Troops. For information, call (800) SIMONTON (1-800-746-6686) or visit http://www.simonton.com.
###
SIMONTON ON-LINE NEWS ROOM: http://news.simonton.com/
Simonton Windows received the highest numerical score among window and door manufacturers in the proprietary J.D. Power and Associates 2010-2012 Windows and Patio Doors Satisfaction StudiesSM. 2012 study based on responses from 2,519 consumers measuring 11 brands and measures opinions of consumers who purchased new windows or patio doors in the previous 12 months. Proprietary study results are based on experiences and perceptions of consumers surveyed in January – February 2012. Your experiences may vary. Visit jdpower.com.
ENERGY STAR is a government program that helps consumers protect the environment through superior energy efficiency and is a registered trademark of the U.S. Department of Energy and the U.S. Environmental Protection Agency.
© 2012 Hanley Wood, LLC. Complete data from the Remodeling 2012–13 Cost vs. Value Report can be downloaded free at http://www.costvsvalue.com.