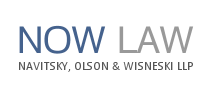 As a team of successful medical malpractice lawyers, I am excited to extend NOW Law's legacy of excellence into these areas and look forward to providing assistance to individuals and families affected by medical malpractice
(PRWEB) March 26, 2013
Navitsky, Olson & Wisneski, LLP—a successful malpractice law firm--announced the expansion of their medical malpractice legal representation into Carlisle and Mechanicsburg, Pennsylvania.
"I am pleased to announce our expansion," explained attorney David Wisneski. "As a team of successful medical malpractice lawyers, I am excited to extend NOW Law's legacy of excellence into these areas and look forward to providing assistance to individuals and families affected by medical malpractice," he continued.
Attorney Wisneski has been recognized by Philadelphia Magazine and as a Pennsylvania Super Lawyer. He has secured six and seven figure jury verdicts and has obtained numerous recoveries for his clients that have exceeded $1 million.
Attorneys are now available for free consultations with clients looking for medical malpractice lawyers in Carlisle, PA and medical malpractice attorneys in Mechanicsburg, PA.
NOW Law's medical malpractice attorneys have been practicing law and protecting the rights of injured people across the United States for decades. Their reputation for excellence has been recognized by numerous organizations including Super Lawyers, The Best Lawyers in America and the Million Dollar Advocates Forum. Most recently they were recognized by U.S. News and World Report as one of the Best Law Firms in the Personal Injury Category. They have enjoyed extraordinary success, repeatedly securing million and multimillion-dollar verdicts and settlements for their clients.
Within the legal community, NOW Law has a reputation for excellence. Many of their cases are referred to them by other attorneys who view them as experienced medical malpractice lawyers, but referrals are not necessary. If an individual or family has been injured by a medical mistake or misjudgment, NOW Law is interested in providing representation to return the financial compensation to which the victims may be entitled.
The firm looks forward to working with medical malpractice victims in Carlisle and Mechanicsburg, Pennsylvania.
If you are in need of a medical malpractice attorney in Mechanicsburg, PA, or a skilled and proven medical malpractice lawyer in Carlisle, PA that understands your situation and is able to provide support during a difficult time, contact NOW Law today. For more information about the firm, or to schedule a free initial consultation, please call Navitsky, Olson & Wisneski LLP at 1-800-818-9608. You can also contact the firm online or visit its website at nowllp.com.