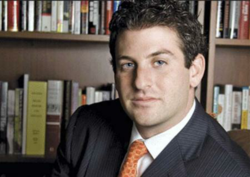 (PRWEB) March 28, 2013
Jared Cohen - a former advisor to Secretaries of State Rice and Clinton, the director of Google Ideas, an adjunct senior fellow at the Council on Foreign Relations, and the co-author (with Google executive chairman and former CEO Eric Schmidt) of 'The New Digital Age: Reshaping the Future of People, Nations and Business' - is available for speaking engagements through Boston-based American Program Bureau.
'The New Digital' Age, which is due for release in April 2013, explains how everything in the physical world will change over the next decade as five billion new users enter the digital age.
Cohen plans to address audiences on topics surrounding technology's impact on business, global politics, and freedom.
If you are interested in inviting Jared Cohen to speak at your upcoming event, contact American Program Bureau at 617-614-1600.
About American Program Bureau (APB):
In business since 1965, APB represents a roster of high-profile speakers from entertainers and politicians to thought leaders and academics. Learn more about APB at apbspeakers.com or follow us on Twitter @apbspeakers.