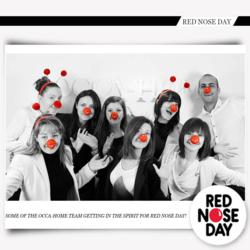 The whole team are honoured and thrilled to have been recognised in the final of these prestigious awards.
(PRWEB UK) 27 March 2013
Occa Home, the fast growing online interiors website, was today named as a finalist in The Paypal Etail Awards 2013.
The awards, presented by Drapers and Retail Week, recognise the very best online retail has to offer. "This year the quality of entries was better than ever so being shortlisted is a great achievement," said Laura Dalton of Emap, the event organisers.
Occa Home has become the leading independent interior design and gifting etailer, selling designer branded furniture, lighting, accessories and wedding gifts on a constantly evolving website.
Founded in 2009 by Kate Mooney, the business is a unique concept that originated from her professional interior design practice, Occa Design which has spent the past ten years designing and purchasing for global hotel groups. This design heritage and established supply chain is what differentiates Occa in the online sector.
"We wanted to open up the world of professional interiors and make all the fabulous products you see in designer hotels and magazines easily accessible to customers - wherever they live and what ever time they shop," says Kate. "And, we've expanded that to include professionally curated collections where our design team combine products to create design ideas and styles - and then make is really easy for our customers to shop the look."
Occa Home have stated that they are committed to developing the UKs #1 destination for design led home interiors and exceptional customer service. Having more than doubled sales revenue each year since launch and delivering impressive growth of 185% in FY11-12, they seem to be well on their way to achieving this.
"It's still early days for Occa" notes Kate, "but it's been a collective effort with a lot of hard work and determination to get us this far, so the whole team are honoured and thrilled to have been recognised in the final of these prestigious awards."
OccaHome
Occa-Home is a technology-led, innovative e-commerce solution and the leading independent online interiors website. It delivers designer branded homewares and lifestyle collections, curated by professional interior designers with a global supply-chain. Occa makes these irresistible products available to buy online globally 24/7. With triple digit growth YOY since launch, Occa is set to dominate the designer online home-wares sector, changing the way customers purchase design led home furnishings and the way manufacturers and designers bring their products to market.
Kate Mooney
Kate is turning the world of interior design on its head. With over twenty years' experience working on professional interiors projects, Kate is the founding director of hotel design specialists Occa-Design as well as the CEO and founder of the ground breaking Occa Home e-commerce venture - the UK's Premier Online Interior Design Boutique. In the challenging economic climate of the past three years, Kate has focused on re-defining her business by embracing technology & digital retail to change the way people access great interior design ideas and products – and then have them delivered straight into their homes. She's leveraged her established supply chain and global hotel design experience to create this compelling new concept and availability in interiors.
Robert Willlet
Bob is a leader with significant international operating experience in the Retail, Multi-Channel and Technology Industries. He has enjoyed operating roles from M&S to BestBuy and was the Global Managing Partner of Anderson Consulting / Accenture's Retail Practice, where he worked at best-in-class retailers throughout the world on strategy review, business transformation, procurement and supply chain management, brand positioning, technology transformation and customer segmentation. Bob has a passion for utilizing "customer insights" and technology to deliver a superior customer experience and upper quartile returns for shareholders through a results driven organisation.
William Currie Group
The William Currie Group was founded and is led by Bill Currie, a former number one rated city retail analyst and specialises in investments into retail & consumer companies. The Group's investment portfolio is managed by Bill Currie and Iain McDonald, also formerly a number one ranked retail analyst. WCG has invested in a number of internet retail businesses, most notably Asos and QXL Ricardo, both of which led to multiple return cash exits. Bill founded the retail business, The Fragrance Shop, which he later sold to Peacock Group PLC.
Bill Dobbie
Bill is an experienced entrepreneur and director specialising in internet, telecoms and technology businesses. He has led a number of successful private equity funded businesses spanning founder to non-exec positions. Bill has been a Director of Demon Internet, Prestel, Teledata, Scottish Telecom (Thus) Iomart and several other companies. Bill is currently CEO of Cupid plc, an AIM listed online dating business, a non-executive director of Maxymiser Ltd a provider of online marketing software and services, Tag-Games Ltd a provider of mobile and social games and Digitalbox Ltd a discount and saving website.