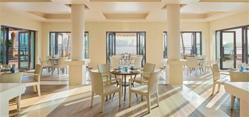 Dubai, U.A.E. (PRWEB) March 26, 2013
A vast range of contemporary dining and entertainment venues offer an array of gastronomic delights and culinary experiences at Fairmont The Palm, Dubai.
Frevo
One of the Dubai's only authentic Brazilian Churrascaria experiences, Frevo offers over 15 cuts of Brazilian meat, all carved in churrasco style. The premier Dubai dining venue also boasts a large selection of vibrant and colourful salads, as well as flambé fruit desserts. Live music each night reflects the vibrant tempo of a Brazilian carnival.
Open Saturday to Wednesday: 7pm – 11:30pm; Thursday and Friday: 7pm – 12:30am
Bā Restaurant & Lounge
Opening soon, this luxurious Chinese restaurant in Dubai takes its name from the Chinese number 8, which is considered to be very lucky in East Asian lore and mythology, Bā celebrates the full spectrum of regional cuisines. This two-story Dubai restaurant is highlighted by a bar and lounge area serving a Chinese-inspired tapas menu, paired with creative cocktails from savvy mixologists.
Open Saturday to Wednesday: 7pm – 11:30pm; Thursday and Friday: 7pm - 12am
Flow Kitchen
Flow Kitchen is an international restaurant serving family-style cuisine from the Middle East, India, the Mediterranean and Asia. This top Dubai restaurant features 'The Chef's Palette,' a cooking studio designed for hosting networking functions, culinary demonstrations, wine tastings and even cake decoration sessions. Be sure to indulge in the views from Flow's private dining room that overlooks the Arabian Gulf beach.
Open daily from 6:30am to 11pm
Seagrill on 25° Restaurant & Lounge
Embracing a prime position, this luxury restaurant and lounge overlooks the Arabian Gulf, the Seagrill on 25° Restaurant & Lounge offers the Dubai restaurant scene a Levantine twist to fresh grilled seafood and a shisha menu composed of bespoke flavours and blends. The perfect place for a relaxing sundowner.
Open Saturday to Wednesday: 12pm - 12am; Thursday and Friday: 12pm - 1am
The Cigar Room
The Cigar Room, cigar lounge, specializes in malt whiskies and boasts a large collection of bourbons in Dubai. Enjoy an exclusive evening devoted to the pairings of cigars, malts, wines and chocolates rounds out this refined connoisseur experience, hosted by the resident award winning Habanos cigar sommelier.
Open Sunday to Thursday: 5pm - 1am; Friday and Saturday: 3pm to 1am
Mashrabiya Lounge
Set against the picturesque backdrop of contemporary Arabesque design, and supplying a wealth of gorgeous views of the the Arabian Gulf, this luxury lounge in Dubai features an extensive outdoor area with a full range of delectable tea offerings from around the world.
Open daily 24 hours
Delicacy
A variety of freshly baked breads, morning pastries, cakes and tarts are the order of the day at this take away venue - enjoy at home or to give as a gift.
Open daily from 7:00am to 7:00pm
About Fairmont Hotels & Resorts
With more than 60 destinations around the globe, Fairmont Hotels & Resorts is a celebrated collection of landmark, luxury hotels. For more information or reservations, please call 1-800-441-1414 or visit fairmont.com.