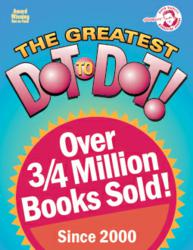 "We earn the title of Greatest Dot to Dot series because we constantly challenge ourselves to create the best imaginable puzzles for everyone," says Kalvitis. "That's why each book is better than the last."
Rochester, NY (PRWEB) March 26, 2013
Connect the dot puzzle publisher, Monkeying Around, is proud to announce that the self-published Greatest Dot-to-Dot Puzzle series has surpassed the ¾ million mark in sales this month after featuring their latest Adventure Book at the NYC Toy Fair. Since the release of his first book in July 2000, puzzle designer, David Kalvitis has worked towards this goal his entire career, recognized now after the immense success of all 17 of the Greatest Dot-to-Dot series.
Nearly a year since it's summer 2012 debut, The Greatest Dot-to-Dot Adventure – Book 1 acquired the 750K sale mark at the 110th annual American International Toy Fair in New York City. The award-winning puzzle book's complex and artistic activities have captured the interests of puzzle fans all over the world. The Adventure Book contains two triple-page foldouts and one jaw-dropping four-page foldout with over 2,600 dots – the largest dot-to-dot in print to date!
Customer demand for Kalvitis's complex connect-the-dots books remains high in stores that sell activity books. Renee, owner of Miller Pads and Paper in Boscobel, WI stated, "The Greatest Dot to Dot books are by far our Best Sellers! Can't wait for more titles!" And Stacey, buyer for the educational store Resource Island in Cleona, PA added, "We just love these Dot-to-Dot books! Our customers rave about them and keep coming back for more!"
With 750K books sold, loyal customers who span the globe, and more books on the way, Kalvitis and Monkeying Around are working toward meeting their new objective – 1 million sold. It is a challenge Kalvitis' colleagues have no doubt he will meet.
For more information please visit http://www.monkeyingaround.com/
About Monkeying Around
Dot -to-dot publisher, Monkeying Around, was founded in 2000 by puzzle creator David Kalvitis. Kalvitis is a lifelong puzzle and game fan, has a Fine Arts degree from Syracuse University and previously operated a graphic design business in Upstate NY for 13 years. Since 2000, Monkeying Around has been dedicated to offering innovative dot-to-dot products that will delight and entertain children and adults of all ages. Monkeying Around produces "The Greatest Dot-to-Dot Books in the World," a challenging collection of unique dot-to-dot surprises and variations. The company also publishes "The Greatest Newspaper Dot-to-Dot Puzzles," pocket and travel sized collections of weekly syndicated puzzles, in the pages of USA newspapers. In 2007, the first of four "Greatest Dot-to-Dot Super Challenge" books was introduced. David Kalvitis is currently working on the next Greatest Dot-to-Dot Adventure Book.