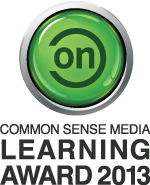 The award encourages us in our quest to produce the highest quality of educational and creative music tools for children, and use technology to foster musical creative play," said Morton Subotnick, the creator of Pitch Painter.
New York, NY (PRWEB) March 26, 2013
Morton Subotnick's Pitch Painter has received a 2013 ON for Learning Award from Common Sense Media, the national nonprofit dedicated to helping parents and teachers manage the media and technology in kids' lives. Pitch Painter is one of just about 50 apps, games, and websites to receive the award this year. The awards celebrate the very best in kids' digital media products that are designed to educate and engage and will be given out tonight at the first annual ON for Learning Awards in San Francisco, to be held at the Cartoon Art Museum.
Pitch Painter is a musical painting application for the iPad designed for children 3 to 5 years old. It is simple, yet surprisingly sophisticated. Using finger painting as a metaphor, children can compose, erase, edit and save or load their creations. They can hear their musical creations played back exactly as they drew them, or as a normal piece of written music, from left to right, or upside down, backwards and even scrub them like a DJ. In addition, while enjoying creative play, they will experience a variety of musical instrumental sounds and authentic scale tunings from four regions of the world.
Pitch Painter was chosen because it earned a high learning rating from Common Sense Media, meaning that Pitch Painter is an engaging iPad app with the potential to help equip kids and teens with the skills they need to thrive in tomorrow's world. The full rating and review is available here.
"We're honored to receive this award from Common Sense Media. The award encourages us in our quest to produce the highest quality of educational and creative music tools for children, and use technology to foster musical creative play," said Morton Subotnick, the creator of Pitch Painter.
A 2011 poll by Common Sense Media found that while many parents believe that digital media can provide learning benefits, they're skeptical about the claims made by some companies about their products' educational potential. Common Sense Media's learning ratings address that problem by clearly communicating a website, game, or app's learning potential, along with offering suggestions on how to get the most out of the user experience. A team of highly trained reviewers analyzes digital media products for core academic content like reading, math, and science, as well as deeper learning and social skills such as critical thinking, creativity, and collaboration. The team also assesses each product's overall learning potential, looking both at how engaging it is and how it's designed to support learning.
"Our learning ratings are the most comprehensive tool parents have to distinguish the digital media products that are truly educational from those that simply claim to be," said Seeta Pai, architect of the Common Sense Media learning ratings initiative. "The ON for Learning Award recipients have set themselves apart from the pack. We congratulate Pitch Painter for receiving this award and for creating a terrific iPad app that helps kids learn and have fun, too."
Common Sense Media's learning ratings are based on comprehensive research and a rigorous evaluation framework. The framework was developed after conducting interviews with academic experts, a literature review of key 21st-century learning skills, and research with national samples of parents and teachers, who voiced a real need for learning ratings like these. The learning ratings initiative is made possible through a partnership with SCE (http://www.scefdn.com), a new foundation from Susan Crown.
The ON for Learning Awards will take place this evening (March 26) at the Cartoon Art Museum in San Francisco. The event brings together developers, investors, and other stakeholders who are committed to creating high-quality digital media learning products for kids. The awards are part of Common Sense Media's ongoing effort to highlight products that boost learning and recognize developers who are improving the digital media landscape. Follow the event on Twitter with the hashtag #ONforLearning.
For more information about Pitch Painter, please watch a video with Morton Subotnick, and see pictures on how children are using it and visit the Pitch Painter website.
To learn more about Common Sense Media's learning ratings, visit http://www.commonsense.org/learning-ratings.
About Morton Subotnick
Morton Subotnick is one of the pioneers of electronic music and multi-media performance. He is an innovator in works involving instruments and interactive computer music systems.
His work Silver Apples of the Moon has become a modern classic, and in 2010 was entered into the National Registry of Recorded works at the Library of Congress, which selected only 300 recordings in total for this esteemed archive.
Subotnick is also a pioneer in offering creative musical tools to young children. He has authored the educational CD-ROM series Making Music which has been widely used by parents and educators to let children experiment with the fundamentals of pitch, rhythm, sounds and styles of music. Pitch Painter is his latest endeavor in utilizing mobile technology to ignite the musical creativity of children.
Subotnick tours extensively throughout the U.S. and Europe as a lecturer and composer/performer.
About Common Sense Media
Common Sense Media is dedicated to improving the lives of kids and families by providing the trustworthy information, education, and independent voice they need to thrive in a world of media and technology. We exist because our kids are growing up in a culture that profoundly impacts their physical, social, and emotional well-being. We provide families with the advice and media reviews they need in order to make the best choices for their children. Through our education programs and policy efforts, Common Sense Media empowers parents, educators, and young people to become knowledgeable and responsible digital citizens. For more information, go to: http://www.commonsense.org.
Press Contacts:
Katja Schroeder
Expedition PR for Morton Subotnick's Pitch Painter
Katja@expeditionpr.com
(917) 652-6049
Marisa Connolly
Common Sense Media
415-553-6703
mconnolly@commonsense.org
Julia Plonowski
Common Sense Media
415-553-6728
jplonowski@commonsense.org