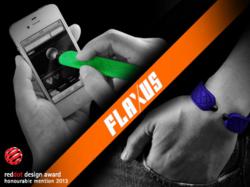 With everything ready, including manufacturing capability, we still need support to bring FLAXUS to the world.
Hong Kong (PRWEB) March 25, 2013
FLAXUS is the world's first fashion, snap bracelet and mobile device stylus all in one. While extended, FLAXUS is strong and sturdy, but while coiled, it can be wrapped around a wrist for easy access or hooked to a bag. In order for Jack Chau, the creator of FLAXUS, to bring the product to market, he needs to crowdfund $10,000 to cover manufacturing costs. In exchange for making a pledge or donation to his Kickstarter project, Chau is currently offering a pack of two FLAXUS styluses for just $24 to all early adopters.
You may be wondering, "why would I ever consider wearing a stylus?" Well, carrying a conventional stylus is inconvenient because it can be easy to forget, or misplace. A pen-shaped stylus can be uncomfortable in a shirt or pants pocket, and although pocket-sized styluses may be easier to carry, they're often too tiny to write with. But, with the FLAXUS slap bracelet/stylus, those on-the-go are able to easily access their wearable stylus at a moments notice.
"My team at AEGLO and I have invested a lot of our energy and resources into FLAXUS and I'm very proud of our finished prototype," says Chau. "With everything ready, including manufacturing capability, we still need support to bring FLAXUS to the world."
FLAXUS is most convenient while wearing gloves, or when hands become too messy to operate a touchscreen device. With just a flick of the wrist, FLAXUS is at a user's disposal to answer texts, check email or receive a tablet signature for small businesses.
For just $24, backers will receive two FLAXUS styluses with an extra set of conductive stylus tips for both ends. Its soft rubber coating comes in multi-color options and is washable, making FLAXUS perfect for the beach, following recipes in the kitchen, using a device with long fingernails, signatures, and faster, more precise navigation.
Currently, FLAXUS has raised over 60% of its funding goal on Kickstarter, and still needs help to raise the rest of the funds. For more information on FLAXUS or to support its campaign in exchange for the stylus and other rewards, visit http://bit.ly/FLAXUSKS. Backers can also stay up to date with the campaign by Liking AEGLO on Facebook and Following them on Twitter @AEGLObrand.
About AEGLO
AEGLO™ stands for Alpha . Evolution . Gear . Lifestyle . Original., and serves as the official store for those who seeks trendy, fashionable, and lifestyle enhancing products. We are a dynamic team who are obsessed in bringing cutting-edge, stylish, and extremely functional products to the marketplace. We design, define, or discover products that strive to enhance your individuality by merging technology with stylish elements. From producing our own designed items to collaborating with other creative minds, our goal is to bring you unique products that are one of a kind. For more information on AEGLO, visit http://www.aeglo.com, Like them on Facebook and Follow them on Twitter @AEGLObrand.