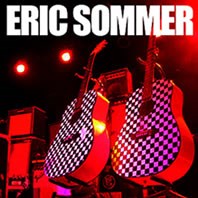 It's a study in how to be so, so good and stay under the radar...

Brit Schantz
West Media Partners
New York, New York (PRWEB) March 26, 2013
Eric Sommer brings his Alt Folk Rocker style of Pop Americana to Wicked Willy's in New York City's Greenwhich Village on April 10. This is one show to catch on an off night in The Village.
It's classic Eric Sommer, too: slide guitar and open tunings, all manner of innovative harmonic approaches wrapped around memorable pop songs and insightful, hauntingly visual urban balladeering.
Eric started out in Boston and rural New Jersey, played in the local scene a bit, and then moved on to Europe where so much new music was happening. After a few years on the German and Danish music scene and touring extensively in France, Germany and Holland, Eric returned to the fertile Boston music scene in the 90's, worked odd jobs while living in the South Boston area. At this time the Boston scene was super hot and Eric became a regular performer at Don Laws' The Paradise Theatre and Club Passim in Cambridge.
It all comes together at an Eric Sommer show.
An artist who has been on the scene for some time, Mr. Sommer carries a lot of musical credibility. A ton, in fact - Mission of Burma, Gang of Four, Bram Tchaikovski, Wreckless Eric and new Mods Bugsy Low Low and Pete Hanks as well as Nashville favorite Cindy Compton - and on the flip side there are shows and tours with John Hammond, David Bromberg and John Dee Graham, Leon Redbone and Dr. John.
And what's even better is that he can do it, do it all, and do it so well it hurts.
Mr. Sommer has developed a combination of techniques that are unique and their application "on-the-fly" is exploratory in the audio sense: varied tuning alterations while playing, sonorous double string drones, octave overtones with enhanced feedback manipulations, volume and tone adjustments and above the fret board tones as well as lap-slap guitar in a cyclone of sound and movement that is almost gymnastic.
Eric Sommer at Wicked Willy's, April 10th, 8pm. Wicked Willy's is located at 149 Bleecker St New York, NY 10012 Tel: (212) 254-8592
_________________________________________________________________________
For Music Samples please visit CDBaby or Eric Sommer online for additional schedules or contact him at eric(at)ericsommer(dot)com or call 202-255-1995. Additionally, you can find Eric Sommer on Facebook, too.
Eric Sommer is represented by Clyde is Thinking, and PR programs are managed thru MTG/NY; For more information, promo/appearance requests or to set up an interview, please contact Tom Monihan 202-255-1995.