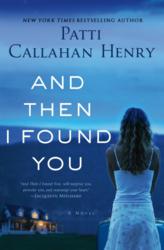 Our lives were forever changed when my sister's daughter found us in real-life
Ballground, GA (PRWEB) March 26, 2013
Patti Callahan Henry will talk about her newest novel, "And Then I Found You," inspired by a Facebook "Friend" request in 2010 that set off a life-changing series of events, profoundly affecting her family.
The real life story began more than 20 years earlier when Henry's younger sister placed her baby girl up for adoption. Patti Callahan Henry and her sister Barbi Callahan Burris – the inspiration for Henry's novel – will appear together at Gibbs Gardens to share their true story and answer questions from the audience.
"Our lives were forever changed when my sister's daughter found us in real-life," says Henry. "I wanted to find a way to write about the goodness and grace our family experienced. In the end, I crafted a fictional story to tell the truth."
Henry's family history with adoption, shared family experiences and the joy of her sister's reunion with the daughter she had placed for adoption inspired the novel: a compelling narrative of love lost, love found, and a miraculous reunion that changed everyone's lives forever.
For Henry, who has nine books to her credit, writing this novel presented unique and very personal challenges. "I struggled to balance very private family sensitivity with the art of storytelling," she says.
Come to Gibbs Gardens early on Wednesday, April 17, stroll the garden paths and experience spring's beauty then join Patti Callahan Henry to learn more about her compelling family story and the novel she crafted. The novel, "And Then I Found You," will be available for purchase and signing.
Visitors may purchase lunch at the Arbor Café. Admission to the Gardens is $20 per person for non-members; $18 per person for seniors and groups of 10 or more. For book clubs and other groups, please call 770-893-1881 for group discount information. Seating will be available on a first-come basis.
ABOUT GIBBS GARDENS:
The 300-acre Gibbs estate in Cherokee County includes 220 acres of breathtaking gardens set in mature rolling woodlands dotted with ponds, springs, streams and waterfalls.
Visitors to Gibbs Gardens are amazed by the diversity and breadth of its 16 artistically designed garden venues and dazzled by the four feature gardens:

Japanese Gardens, at more than 40 acres are the largest in the nation.
Monet Waterlily Gardens, featuring 140 varieties of unique lilies and a replica of the Japanese Bridge in Claude Monet's Garden at Giverny (outside Paris).
Arbor Crest Manor House Gardens, where seven flowering terraces flow seamlessly down 150 feet of elevation from Arbor Crest Manor House to the Valley Gardens.
Daffodil Gardens, an estimated 16-20 million blossoms representing 60 varieties of daffodils sweep across 50 hillside acres.
Facts about Gibbs Gardens:
Gibbs Gardens is conveniently located less than an hour's drive north of Atlanta, between SR 400 and I-575. Visitors will enter Gibbs Gardens off Yellow Creek Road in Cherokee County, from Hwy 53 on the north or SR 369 on the south.
The Welcome Center adjacent to the parking area includes The Seasons gift store, ticketing and restrooms. Just steps away, The Arbor Café offers a selection of sandwiches on fresh baked bread, desserts and daily specials on baked goods.
Gibbs Gardens will be open from 9:00 a.m. until 5 p.m. on Tuesday through Sunday from March 1 until April 15 (closed Monday for maintenance) and Wednesday through Sunday from April 17 through Dec. 15 (closed Monday and Tuesday for maintenance).
Tickets to visit the gardens are $20 for general admission to all 16 garden venues. Seniors (65 and older), tour groups of 10 or more and children 4-17 can visit the gardens for $18. Children 3 and under are free.
There is no charge for parking. Trams -- $5 for a day pass -- will be available to take visitors between the Manor House Gardens and Valley Gardens and along other garden routes.
Gibbs Gardens is located at 1987 Gibbs Drive, Ball Ground GA, 30107.
Patti Callahan Henry at a glance:
Patti Callahan Henry has written nine novels and has been hailed as a fresh new voice in southern fiction, appearing in numerous magazines including Good Housekeeping, Skirt, The South, Southern Living, and more.
She has been short-listed for the Townsend Prize for Fiction and nominated four different times for the Southeastern Independent Booksellers Fiction Novel of the Year.
Two of her novels were OKRA picks and Coming Up For Air was an Indie Next choice. Patti Callahan Henry is a full time writer, wife and mother of three living in Alabama.
Told from the points of view of birth mother, Kate Vaughn, and her thirteen year-old daughter Emily, And Then I Found You (St. Martin's Press; Hardcover; April 9, 2013; 272 pp.) spans over twenty years and follows the characters as they move through their lives in South Carolina, Arizona, Alabama and New York. Now thirty-four years old, Kate seems finally ready to begin her life with someone else, but memories keep holding her back.
In her wish to conquer her painful past, Kate decides to visit Jack, the father of the baby she placed for adoption many years before. Their reunion and an unexpected Facebook request start a chain reaction that will change not only Kate's life, but that of her loved ones too.
And Then I Found You is ultimately a story about brave choices, our yearning for certainty and the courage it takes to find our place in the world.
This release was submitted by Click Ready Marketing.