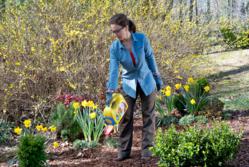 Forsythia blooming is Code Yellow Weed Alert, nature's indicator that the Spring Weed Season has officially opened.
Lebanon, PA (PRWEB) March 26, 2013
Yellow forsythia blooms are what botanists call a phenological symbol. When forsythia bushes bloom in spring in a given area, one can be sure that certain other things are also happening simultaneously: the soil is warming, microbial activity is stirring and conditions are ripe to jolt certain seeds and buds into action.
To gardeners, this yellow bush signals spring's Code Yellow Weed Alert! It is nature's indicator that the Spring Weed Season has officially opened. Once forsythia buds appear, it's time to use a pre-emergent such as Preen to stop weed seeds before they grow. Ideally apply the pre-emergent before forsythia reaches full bloom, but it's not absolutely necessary. In fact, it's never too late to apply pre-emergents, as different weeds germinate at different times all season long.
Phenologically, the magic moment for forsythia occurs when the bush hits peak bloom. In nature, this occurs when soil temperature warms to 55° F. This happens to be exactly when the earliest spring weed begins to germinate: crabgrass. Conveniently, forsythia typically blooms for several weeks before reaching full bloom giving gardeners plenty of time to gear up!
After crabgrass, the weed flood gates are open. Week after week, all season, other weeds start rolling through the germination pipeline. And so it goes, spring, summer and fall.
For the weed-wary the best weed prevention technique is to add a layer of mulch to garden and landscape beds, then apply a sprinkling of Preen pre-emergent granules on top. Preen stops weed seeds from rooting in the top layer of garden soil and in the mulch itself. Weeds that don't root, don't grow and never have to be pulled.
To catch that first wave of weeds, apply Preen early. But, missing the early window is not a deal-breaker: apply it whenever you can. There are more weeds coming. Typical garden soil contains millions of dormant weed seeds, all variously programmed by nature to sprout in their seasonal time slots.
Forsythia grows coast-to-coast. Its signature yellow blooms pop out in spring at varying times, depending on the local climate zone and seasonal weather. Some see forsythia as a somewhat stodgy bush that blooms for several weeks in spring, then is boring for the rest of the year. There's some truth to that. Still the ubiquitous spring bloomer has plenty of fans so bright yellow bushes can be found most everywhere each spring, each flashing its Code Yellow Weed Alert. The bushes are hardy in USDA Zones 4-9, depending on the variety. For those who want a forsythia of their own, they're easy to grow and tough to kill.
For the record, forsythia are natives of Asia and first came to the west from China. They were named after British horticulturist William Forsyth in 1770, when he was director of the Chelsea Physic Garden in London. In the U.S., the "y" in forsythia is pronounced with a short "I" as in "inch." In the U.K, the name more closely recalls Mr. Forsyth, with its "y" pronounced as in "eye."