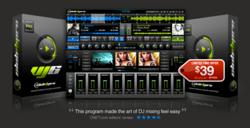 VJ6 makes the art of video-mixing easy
(PRWEB) March 26, 2013
ClubDJPro.com announces the release of VJ6, their sixth generation software for creating heart-pumping video, karaoke and audio mash-up sessions.
New enhancements for VJ6 include Windows 8 optimization and ClubDJPro's proprietary VMIX Video Engine - for the most responsive and performance driven video mix sessions.
Loaded with features and intuitive design, VJ6 makes it easy for all users (from novice to pro) to create electric mix sessions that will ignite every party. Add stunning video, visualizations, text message display, image/logo overlay and karaoke to your live performances. VJ6 is truly the "complete DJ Software solution" that takes your mix sessions to the highest level.
And now, for a limited time only $39 (Reg $199).
"Video DJing has never been more affordable. Video hardware costs have dropped in recent years. There is a huge opportunity to increase existing income and gain the competitive advantage for the professional DJ, supplement income for the novice DJ and allow home-users to rock their own parties.
At ClubDJPro.com we are very excited about the opportunity to offer such a powerful DJ tool, at a fraction of the cost of other VJ mixing platforms. Our passion is to continue to excel at offering superior software, at the MOST affordable price to the consumer."
With real-time pitch/tempo controls, auto-beat matching, dual waveform displays, sound effects, equalizer, seamless looping, searchable media library, tree view, history list, play list, request list and (insert a zillion more features here) VJ6 is the only DJ Software you need.
To get VJ6 for only $39 (with a full 30-day money back guarantee) please visit ClubDJPro.com and join thousands of other DJs maximizing the power and affordability of VJ6.