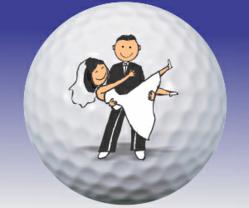 We had been looking at many sites for golf balls like this, and either the prices were crazy or the reviews were poor. We received our golf balls in an amazingly short period, and the print quality is great. We cant wait to hand these out at our wedding.
(PRWEB) March 26, 2013
Each year, thousands of brides-to-be tackle on the daunting task of planning their wedding. One decision to be made during this process is the selection of unique wedding favors for their guests. PromoGolfBall offers a product that provides just that in the form of wedding golf balls without breaking the bank.
A variety of predesigned wedding images have been printed on one side of blank golf balls. These images have been designed for various types of weddings such as destination weddings and themed weddings. Couples can therefore choose the design that best represents them and their wedding. The second side of the golf ball is left blank in order for the couple to truly personalize the product with details such as their names, the wedding date, as well as the wedding location. In addition, optional clear plastic boxes are available to package each individual golf ball.
PromoGolfBall is pleased to announce that a new design had been added to its collection of two-color logos. In this new design the groom is dressed in a tuxedo and is holding the bride in her white wedding dress. The groom looks very strong and the bride is all smiles kicking her feet in the air. In this artwork the couple looks very happy, hence the name "Happy Couple".
The wedding golf balls offered by PromoGolfBall have become increasingly popular as wedding favors and represent a large portion of the company's annual sales. They are also quickly becoming a popular gift idea for groomsmen and the father of the bride. With thousands of golf balls in stock and ready to be personalized, fast turnaround is also available for last-minute party planners or couples.
PromoGolfBall prides itself on providing quality products paired with outstanding customer service for each and every client. The large number of positive reviews posted by satisfied customers on PromoGolfBall's website proves that the company is not only meeting customers' expectations, but also surpassing them. For more reviews of wedding golf balls printed by PromoGolfBall, you can visit http://www.WeddingWire.com
About http://www.PromoGolfBall.com
PromoGolfBall specializes in colour spot and process golf ball printing. PromoGolfBall started its operations in 2005 and quickly positioned itself as a specialist when it comes to custom logo golf balls. The company is committed to offering the best imprint quality you will find in the golf ball industry. PromoGolfBall doesn't print on pencils, coffee cups or any other promotional items; it prints strictly on golf balls using a leading-edge precision pad printer and digital printer. With thousands of golf balls in stock and ready to be imprinted, fast turnaround is also available for last-minute orders. In addition, customers have the chance to add the rush order option to their purchase, which guarantees that the order will be processed and ready to ship within 2 business days. Another aspect that contributes to this quick turnaround time is the fact that all the printing is done in PromoGolfBall's own factory. It is not contracted to a third party nor is it done by golf ball manufacturers. This gives PromoGolfBall the ability to have total control over the production process.