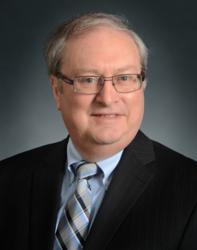 (PRWEB) March 25, 2013
Gary E. Slagel has joined Steptoe & Johnson PLLC's office in Canonsburg, PA. as Government Affairs Specialist to the firm.
Slagel comes to Steptoe & Johnson after a 35 year career with CONSOL Energy, Inc. and CNX Gas. During his career at CONSOL, he served as Senior Advisor of Environmental Affairs, Director of Environmental Regulatory Affairs and as the Director of Government Affairs. His career focused on the coal and natural gas industry and the complex issues surrounding shale gas exploration and development.
"I am very happy to welcome Gary to the Steptoe & Johnson team," said Richard L. Lewis, Chairman of the firm's Business Department. "I believe his experience and knowledge of the regulatory and environmental process will bring increased value to firm clients operating in energy exploration and development."
Slagel earned his Bachelor's degree in Civil Engineering from the University of Dayton. He was appointed by former Pennsylvania Governor Robert P. Casey to the Pennsylvania Oil and Gas Technical Advisory Board on which he still serves and was appointed by Pennsylvania Governor Thomas W. Corbett in 2011 to the Marcellus Shale Advisory Commission. Slagel is also the Chairman and Executive Committee and member of the Pennsylvania Independent Oil and Gas Association, and a member of the Board and Executive Committee of the West Virginia Oil and Natural Gas Association. He is Past Chairman of the Pennsylvania Coal Association and the Virginia Coal Association and is a former board member and Chairman of the Regulatory Committee of the Marcellus Shale Coalition
About Steptoe & Johnson
Steptoe & Johnson is nationally recognized as an energy firm with core strengths in Energy Law, Labor & Employment Law, Litigation and Transactional Law. In 2013, Steptoe & Johnson celebrates 100 years of serving the needs of energy clients across the country and around the world. Visit http://www.steptoe-johnson.com.
For more information, contact Betsy Spellman, Chief Marketing Officer, at (304) 933-8000 or by email: betsy.spellman (at) steptoe-johnson (dot) com.