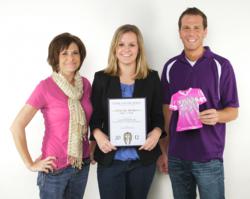 We knew we needed a direct mail piece that would catch our customer's eye.
Manhattan, Kansas (PRWEB) March 25, 2013
GTM Sportswear®'s Fan Jersey Mailer recently received the Pewter Award for the Direct Mail category at the 2012 Gold Ink Awards.
The Gold Ink Awards, produced by commercial printing magazine Printing Impressions, are recognized as one of the most highly competitive and challenging print competitions in the world. A panel of distinguished judges critique pieces based on nine primary criteria, including job difficulty, number of colors, registration challenges, foil or effects that are particularly challenging, paper selection and utilization, binding and finishing techniques, manufacturing challenges, specialized printing techniques and appearance.
GTM, in partnership with their printing company McCormick Armstrong™ Co., Inc., created the Fan Jersey Mailer piece in order to directly reach a targeted group of GTM customers. A visually stunning project, it competed with over 1,000 entries from the finest design agencies and printing craftsman in the world.
"We knew we needed a direct mail piece that would catch our customer's eye," said Joel Versch, creative manager at GTM Sportswear. "We researched industry examples and decided that a die-cut piece in a bright color that was relevant to the customer would create the reaction we were looking for. We partnered with McCormick Armstrong to brainstorm, and the Fan Jersey Mailer was born."
"GTM continues to bridge the important gap to their customers through their direct mail campaigns securing them as a design and marketing group of true excellence competing on the world stage," said Doug Tompkins, vice president of operations at McCormick Armstrong. "We value our partnership and congratulate the GTM team once again for the recognition they received for this prestigious achievement."
The GTM design team responsible for developing and creating the Fan Jersey Mailer includes: Kalyn Sieker, print designer, Joel Versch, creative manager and Katie Van Vleet, direct mail manager.
About GTM Sportswear:
GTM Sportswear, headquartered in Manhattan, Kansas, is a national provider of custom-embellished uniforms, warm-ups and practice apparel for college, school, and club sports teams. Founded in 1989, the company employs more than 850 people, including a nationwide sales team and an inside support team. For more information, visit http://www.gtmsportswear.com.