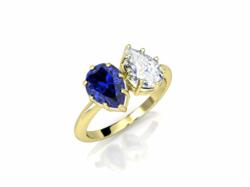 Though the incredible provenance of the ring was what drove the bidding war to such heights, there is still much to be said about the simple elegant beauty of the sapphire and diamond, and their placement in a ring design that would still be popular today
New York, NY (PRWEB) March 25, 2013
Following the $1.17 Million sale of Napoleon's engagement ring at the Osenat Auction House in Fontainbleau, France, The Natural Sapphire Company has announced their design for a reproduction of the historical piece of sapphire jewelry.
The sapphire and diamond engagement ring given by Napoleon Bonaparte to his first wife Josephine in 1796 had a pre-sale estimate by Osenat Auction House from $13,000 to $20,000. However, with such historical provenance it was likely that it would sell for far more; and for far more it did.
After an intense bidding war, that lasted only 15 minutes, the sapphire and diamond engagement ring sold to an anonymous buyer for a staggering $949,000 not including the 25% auction premium that made the final sale $1.17 Million. "Though the incredible provenance of the ring was what drove the bidding war to such heights, there is still much to be said about the simple elegant beauty of the sapphire and diamond, and their placement in a ring design that would still be popular today," says Paul Vermylen, gemologist for The Natural Sapphire Company. "Though it may be considered a simple ring for Napoleon to have chosen, the ring was in the "toi et moi" style, which translates to "you and me" and was symbolic of the union of Napoleon and Josephine's souls."
It was 217 years ago, that Napoleon Bonaparte proposed to Josephine de Beauharnais, his first wife and greatest love. The engagement ring was crafted from yellow gold with a pear shaped sapphire and pear shaped diamond sitting side by side, pointing in different directions. The two stones are said to be approximately 1 carat each. "Napoleon was a young general with not very much money so I think for him at the time this was a significant piece of jewelry," said Jean-Christophe Chataignier of the Osenat auction house.
The marriage of Napoleon and Josephine didn't last due to certain infidelities and Josephine being unable to provide Napoleon with an heir, but their love was forever strong and lasting. It's been written that upon his deathbed, Napoleon's last words were, "France, the Army, Head of the Army, Josephine."
Though The Natural Sapphire Company's reproduction will not have the same provenance as the original; the ring will be crafted from 14k yellow gold and set with a 1.00ct diamond beside a rare 1.09ct natural untreated sapphire which the New York based company is famous for providing. Those interested in the reproduction of Napoleon's engagement ring won't have to shell out $1.17 Million for this one as of course it does not have the historical significance. However, as Michael Arnstein, CEO of The Natural Sapphire Company explains, "This is a ring to begin your own Empire with, to begin your own storied life like Napoleon and Josephine, and to create the provenance, so that in another 200 years it could sell at auction for as much as the ring that inspired it."
About The Natural Sapphire Company:
The Natural Sapphire Company specializes in mining, sourcing, and selling natural untreated sapphires. Founded in 1939 by Walter Arnstein, the company is now a third-generation family business. The Natural Sapphire Company supplies sapphires to retailers, jewelry manufacturers, and private clientele. The company launched its Internet retail section in 1999 and has since become a popular e-commerce website. The Natural Sapphire Company is known to have the world's largest collection of natural, untreated loose sapphires and an amazing array of natural sapphire jewelry. For more information, visit http://www.TheNaturalSapphireCompany.com.