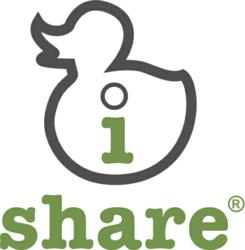 "iShare is a great way for CEOs to give to charity without changing their budgets, but also for nonprofits to rally their supporters to bring in new donations."
Stowe, VT (PRWEB) March 26, 2013
When Grand Slam Tennis Tours' CEO Andrew Chmura placed a recent order with Image Outfitters he was unaware that the promotional products specialist had created a charitable giving program called iShare. The Vermont-based tennis tourism company never expected an order of customized digital picture frames could have a positive impact on youth and families in its home state, but after Image Outfitters CEO Esbert Cardenas explained the iShare program, nearly $2,000 was donated to Burlington's King Street Center.
"iShare is a new spin on the business principle that the customer is always right," says Esbert Cardenas, CEO of Image Outfitters and founder of iShare. "I help my customers choose from over a million different products to represent their brands, but when it comes to choosing worthy charities, I let my customers take the lead."
Every Image Outfitters customer is eligible to donate 10% of the sales from their order to any nonprofit organization through iShare. Quietly launched in April 2012 to Image Outfitters' customers, recent donations have pushed cumulative giving through iShare past the $11,000 mark.
"iShare is a great way for CEOs to give to charity without changing their budgets, but also for nonprofits to rally their supporters to bring in new donations," adds Cardenas. "I am very pleased to see how many people have embraced the iShare program."
For more information on iShare visit http://www.iShareWorks.com
###
Image Outfitters specializes in promotional products for businesses and organizations of all sizes with offices in Stowe and Miami. With over 14 years of experience serving a diverse client base, Image Outfitters is prepared to provide exemplary customer service and order customization for every client, regardless of size.
To learn more go to http://www.image-outfitters.com and follow on Twitter @ImgOutfitters
About iShare: iShare is a charitable donations program that was founded in early 2012 by Image Outfitters. Ten percent of sales from orders of promotional products from Image Outfitters may be directed to the 501 (c)(3) nonprofit organization of the client's choosing.
Visit http://www.ishareworks.com, follow on Twitter @iShareWorks and 'Like' on Facebook at http://www.facebook.com/ishareworks for updates and additional information