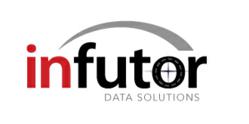 Part of our exponential growth has come from our unique business units [brands] serving separate market segments. Now, we are streamlining all brands under the Infutor name, as we continue to grow and serve these markets
Plainfield, IL (PRWEB) March 26, 2013
In 2013, Infutor Data Solutions, a national database marketing firm, marks its 10 year anniversary of providing originally compiled data and data services. Infutor, which began as a 4-person data compilation team, has experienced double digit growth year over year and now, 10 years later, employs over 70 staff in five offices across the United States and Costa Rica.
Infutor's core product offering began with Tracker, a referential database containing up to 25 years of historical consumer information, and True TNR (Telephone Number Resource), a premier compiled telephone number database. Today, Tracker and True TNR (along with dozens of additional compiled databases) are highly regarded assets throughout the database marketing community, and are used by many of the industry's major compilers.
As part of its 10-year anniversary, Infutor will be consolidating its business units under its core Infutor brand. "Part of our exponential growth has come from our unique business units [brands] serving separate market segments. Each has contributed to the strong growth and success of the company. Now, we are streamlining all brands under the Infutor name, as we continue to grow and serve these markets," explains Infutor CEO Gary Walter.
The brands, which include Inferenda Data Solutions and core products inRichment, QueryFlex, and PowerFlex, will offer the same online portals and data assets, and will be gradually transitioned under the Infutor name.
"The consolidation will not change the products or the service that our clients currently receive," explains Len Lombardo, Chief Operations Officer. "Our development and account management teams will remain the same and provide a seamless transition to our customers. In addition, the consolidation allows all company resources to be streamlined to one central brand, providing for a stronger focus on new product and service development."
As part of this consolidation, Infutor has launched a rebranded corporate website, http://www.infutor.com, which unifies all of these business units under the Infutor umbrella. Walter explains, "We are very proud of the efforts made to further strengthen the Infutor brand. With company growth happening so quickly, we are working hard to meet and exceed our customers' expectations. This consolidation is an integral part of what we anticipate will be continued growth and success for many more years."
# # #
About Infutor Data Solutions
Infutor Data Solutions is an industry leader in data compilation and data management, providing direct marketers with access to elite consumer data, business data, new movers, telephone databases, automotive databases, and email data.
Infutor compiles both public and proprietary information and has developed high-speed platforms for data accessibility, batch data processing, real-time data delivery, and advanced data cleansing. Database updates are completed daily; processing in excess of 2.6 billion records on a monthly basis.