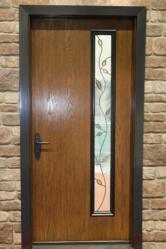 MAUMEE, OHIO (PRWEB) March 27, 2013
Therma-Tru, the nation's leading manufacturer and most preferred brand of entry doors, has introduced the bold and inspired new line of Pulse™ modern-style doors.
Accented with clean lines and crisp angles, Pulse entry doors cater to homeowners seeking to celebrate their own special sense of style. The contemporary door styles reflect four aesthetic feelings that many homeowners wish to capture in their home entry areas: Eclectically Chic, Mid-Century Modern, Retrospective and Distinctively Modern.
"These were the show-stopper doors in our booth at the 2013 International Builders' Show," says Derek Fielding, senior product manager for Therma-Tru Corp. "Pulse doors capture a modern feel, but at the same time bring you back to the 1940s through 1960s when door styles were simple.
"The Mid-Century Modern style is reflected in architecture, design and even furnishings found in the home from roughly 1933 to 1965. The goal during the post-war era was to bring modernism into America's suburban areas. For homes, the emphasis was on creating open floor plans with lots of opportunities to bring the outdoors inside. A great example is the classic home found in the old Brady Bunch television show. The interior of the home was spacious, and the front entry door had a sleek, retro style to accent the home."
Fielding also cites the simple, pure living of Distinctly Modern styles that the Pulse doors complement in the home. "Whether you're a homeowner with a funky, personalized living space or a completely modern open style of home, these doors are ideal for you," says Fielding. "Pulse doors deliver a unique blend of geometric glass shapes and door that can be combined to take cues from the past and future so that homeowners who crave artistic expression can select their own special door style."
Available in oak-grained fiberglass, smooth (paintable) fiberglass and steel, Pulse doors come in both 6'8" and 8'0" heights. Therma-Tru offers the Pulse door line in four different styles --- Ari, Solei, Echo and Linea. The doors all have four Privacy Glass options (Chord, Chinchilla, Rainglass and Granite) along with Clear Low-E and Internal Blinds. The Linea style is available with these same glass insert options plus decorative glass options of Blackstone®, Crystalline™, Sedona, Salinas®, Element, Maple Park®, Avonlea®, Saratoga™, Texas Star, Arden® and Crystal Diamonds™.
"The new Pulse product line gives design-conscious homeowners the opportunity to select an entry door that was inspired by the simple styles developed originally by architect Frank Lloyd Wright in the United States and the Bauhaus design school in Germany," says Fielding. "These influences are timeless. We're finding that homeowners are once again embracing this upbeat living architectural movement as they make a statement on their home with a door that complements feelings of modern sensibilities, retro glamour and fashionably chic."
###
About Therma-Tru
Therma-Tru is the nation's leading manufacturer and most preferred brand of entryway doors. Founded in 1962, Therma-Tru pioneered the fiberglass entry door industry, and today offers a complete portfolio of entry and patio door system solutions, including decorative glass doorlites, sidelites and transoms, and door components. The company also offers low-maintenance Fypon urethane and PVC products. Headquartered in Maumee, Ohio, Therma-Tru is part of Fortune Brands Home & Security. (NYSE: FBHS). For more information, visit http://www.thermatru.com, http://www.fypon.com or call (800) 537-8827.