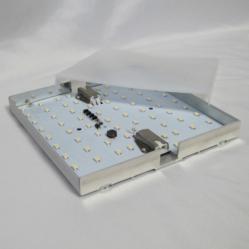 Fremont, OH (PRWEB) March 26, 2013
The nation's leader in high quality LED display lighting, Light Craft Manufacturing, has officially released its SL-308P LED panel light. The SL-308P LED panel light features an ultra slim design ideal for the thinnest light boxes. The SL-308P boasts substantial energy savings compared to standard halogen panel lights, powering up to 18 fixtures with just one power supply.
"We're extremely excited about the new additions to our lineup this year," said Director of Sales & Marketing for Light Craft Manufacturing, Brandon Wright. "Our primary goal has always been to provide our customers with the highest quality energy efficient display lighting on the market. We have remained committed to this goal and plan to continue providing unparalleled lighting for those in the exhibit and trade show industries."
Light Craft's latest addition to their already expansive line of LED products further establishes the company as a market leader. The awe-inspiring SL-308P LED panel light provides effective light enhancement for graphics and light boxes. The SL-308P will be available in 5.5" squares with a 5/8" height. It will come in a neutral white (4300K) color temperature, creating true color rendering when back lighting graphics. A milk plastic lens over the SL-308P's 8-watts, 590 Lumens light produces stunning, ambient lighting.
Each SL-308P LED panel light also includes screws and nylon washers for the two screw down mount holes on the panel. The SL-308P is extremely lightweight and can also be mounted using hook & loop.
In addition to the SL-308P LED Panel Light, Light Craft also provides products like LED lamps, stem lights, power supplies, mounting brackets, track lighting and accessories. LED lights reduce energy consumption and receive a higher quality light output. Light Craft will continue to create energy efficient lighting to better serve the needs of their customers.
About Light Craft:
Light Craft Manufacturing, Inc. is a family owned and operated business that has been dedicated to providing the tradeshow and exhibit industry with quality, reliable lighting since 1987. Light Craft offers a wide selection of stock lighting solutions that include stem lighting, back lighting, track lighting, and recessed lighting. Light Craft also carries LED solutions to help customers become environmentally friendly exhibitors. Along with stock solutions, Light Craft continues to pride itself on custom capabilities that will provide the perfect lighting solution for any unique exhibit design. As a company, they are able to provide all of these solutions at highly competitive pricing and the fastest turnaround time in the industry, as many orders ship the same day they are received. Light Craft's commitment to building trustworthy and outstanding customer service relationships is second to none in the industry. For more information, please visit http://www.lightcraftmfg.com or call (800)772-3152.