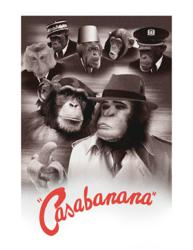 In just two months, Fat Chimp website traffic has increased more than 43%, and we're just getting warmed up!
(PRWEB) March 26, 2013
Lights, camera, action! Promotional materials don't have to be self-serving. In fact, for Fat Chimp Studios' 2013 Promo Campaign they've gone bananas to bring viewers something different. Something fun. And something definitely not boring.
Fat Chimp's latest venture into video marketing introduces viewers to an exciting series dubbed the "Fat Chimp Jungle Theater." Fat Chimp plans to create a series of video marketing pieces inspired by popular films. Each month they'll introduce a short film bringing viewers stories filled with love, action, special effects and epic storylines.
"Casabanana, Part I"—based on, you guessed it, Casablanca—is already written, drawn, shot and delivered."Casabanana, Part II" hit screens March 21. "Here's lookin' at you kid!"
Fat Chimp's campaign then says goodbye to romance and takes viewers on a journey into their version of The Matrix with the "Tropical Matrix." After a visit to The Matrix, Fat Chimp takes viewers on a scary ride into the world of witches, shaky camerawork and uncomfortably close close-ups with a piece called "The Blair Chimp Project." At the end of the year, they're giving a nod to one of the most notable movies of all-time with the short film "Chimpfather."
One audience member, Susan Balk from Hate Brakers, had this to say about the Fat Chimp Studios video marketing promotional campaign calendar this year:
"This is a brilliant, brilliant promotional piece: witty, conceptually and in execution; bulging with expertise and self-irony on every level. When I grow up, I want to be a Fat Chimp. For now, I'm proud to drop your name. Kudos."
Mary Wagener of CMS Solutions—a St. Louis company providing Fat Chimp with content marketing services—says, "We could not be more pleased with the results we are seeing thus far. In just two months Fat Chimp website traffic has increased more than 43% and we are just getting warmed up."
Fat Chimp has worked with CMS Solutions since 2010 developing content marketing strategy and lead generation services. Since the partnership began, the results have been impressive. Fat Chimp and CMS know that effective marketing relies on quality content, not sales pitches and marketing gimmicks.
The last couple of years at Fat Chimp have been busy, and they hope to share their success with clients and views. As the video company continues to grow, their production team has the tools and experience to create the high quality videos that will help businesses grow. Watch for Fat Chimp's newsletters or go to fatchimpstudios.com.
About Fat Chimp Studios
St. Louis-based Fat Chimp Studios is a full-service creative digital media company specializing in business video production with additional services including audio, web design, graphics and animation. Visit the Fat Chimp website to learn more and see samples of our work.
Kevin DePew
Executive Producer
888.621.7824
About CMS Solutions
The mission of CMS Solutions is to help our clients achieve step-by-step, measurable improvement and growth in sales and profitability. They accomplish this through strategic relationships that leverage their unique capabilities in lead generation, eMarketing, database management and sales process re-engineering. They proactively connect their clients with potential customers using an operational approach – one phone call, one lead, one sales presentation, one prospect at a time.
Mary Wagener
Marketing Manager
866.559.5296