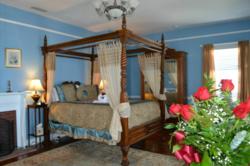 A weekend at the Bayfront Marin House is a great way to help Mom relax and recharge.
St. Augustine, FL (PRWEB) March 29, 2013
Mike and Sandy Wieber, owners of the Bayfront Marin House bed and breakfast in St. Augustine, FL, think it's time to update the Mother's Day song (the one that starts "M is for the million things she gave me").
"Mothers so often put themselves last," says Sandy. "We wanted a special package that would help them relax and recharge."
The "Mother of All Weekend Packages" is available for guests staying at the inn on May 11 and 12. It includes the following:
M is for the in-room massage that Mom will enjoy--complete with relaxing music and 60 minutes of skillfull pressure on Mom's stress points.
O is for Florida-fresh squeezed orange juice. Which she'll enjoy in bed on May 12 (along with a complete hot southern breakfast).
T is for three decadent chocolate covered strawberries, served on a silver tray and waiting in her room with your special message on a handwritten note.
H is for happy hour--served from 5:00 to 7:00 on Mother's Day (and every day, but with a special gift for Mom on May 12).
E is for an excellent meal at St. Augustine's finest restaurant (in the form of a $100 gift certificate to Collage).
R is for the spectacular Room that your mom will enjoy--with $20 off all rooms on Sunday, May 12.
The package is a more than $235 value, available on Mother's Day weekend for just $199. Packages must be booked at the time of reservation, and are subject to availability.
About the Bayfront Marin House:
The Bayfront Marin House in Saint Augustine, Florida is a 15-room, luxury bed and breakfast inn. Located on the Matanzas Bay, the bed and breakfast offers stunning views of the water, hot southern breakfasts each day, along with the highest levels of personalized customer service. For more information, or to make a reservation, visit http ://http://www.bayfrontmarinhouse.com, or call 904.824.4301.