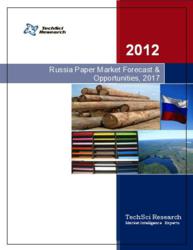 Russia paper & paperboard demand to rise up to 8420 thousand MT by 2017.
(PRWEB) March 27, 2013
The GDP of Russia has been on the growth track since after its downfall in 2009. This growth in GDP has been acting as the catalyst in increasing the demand for paper and paper boards in Russia. The disposable income in Russia has been growing significantly, which has helped the paper industry by demanding more papers such as sanitary and household papers etc. The industrial sector of Russia is growing at fine pace which has specifically created the high demand for the paper industry. GDP has led to the increase in the production lines in heavy & light industries, food sector, etc. As the production lines are increasing, they are creating the demand for corrugated boards in Russia as the products produced by these lines are generally needed for support of corrugated board. The demand of both, the short storage as well as long storage corrugated board is growing in Russia.
According to recently published report by TechSci Research "Russia Paper Industry Forecast & Opportunities, 2017", the market volume of paper industry in Russia is expected to grow at the CAGR of around 5.26% during 2012-2017, which will make the consumption of paper and paperboard In Russia to reach at 8,420 Thousand MT by 2017. Various international companies are focusing on Russia and many of them have already entered in the Russian paper industry. With the entry of global players, the modernization of Russian paper industry is taking place gradually. This will increase the production capacity as well as the self efficiency of the paper industry of Russia
"Some of the major players in the paper industry of Russia are Ilim Group, Mondi Group (Syktyvkar), OAO Kondopoga, International Paper Svetogorsk, etc. The 50:50 joint venture of Ilim Group and International Paper has helped both the companies. Ilim is the leader in the paper industry of Russia in terms of production. In coming years, companies are expected to increase their production capacity as the domestic demand and export volume is expected to rise in near future." said Karan Chechi, Research Director at TechSci Research.
The report provides detailed overview of the paper market in Russia. This report helps readers to identify the ongoing trends in the industry and anticipated growth depending upon changing industry dynamics in the coming years. The report will help industry consultants, paper manufacturers, distributors and other stakeholders to align their market centric strategies according to current and expected trends in future.
To download complete report, please visit http://www.techsciresearch.com/2141