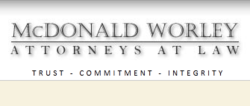 Many women are forced to wait to remove the dangerous implant for want of money. Now we can help them get the medical help they need right away...
Houston, TX (PRWEB) March 26, 2013
Financing options are now available for women experiencing problems with a bladder sling, hernia repair, or other surgical mesh procedure and need money for emergency corrective surgeries. The attorneys with McDonaldWorley.com ask women interested in learning more to visit the site and share details of their case to see if they qualify.
"Women nationally suffering complications related to mesh implant erosion may be able to get the money they need to fix their problems without waiting in pain longer than they have to," stated Michelle Eddington, mesh lawsuit attorney with the firm.
The surgical treatments that may qualify for funding include:

Surgical Mesh
Hernia Repair
Transvaginal Mesh
Bladder Sling
Pelvic Organ Prolapse (POP) Repairs
The synthetic mesh products commonly associated with the procedures above have been linked to serious side effects and resulted in a public health advisory being issued in an FDA alert on July 13, 2011.
"Lawsuits against the makers of these products is a legal course of action that does not address emergency health needs many clients face. Many women have eroding implants without the money to fix and remove the material. In select cases we can help them get the money they need to fix the problem right away," added Ms. Eddington.
About McDonaldWorley.com
Find out how the attorneys, Time Magazine included as leading the U.S. in trial law in 2013, can help today. Experienced legal professionals standing-by to help ensure regular people get the justice & support they need.
Women who want to learn more about the repair surgery funding options, click here: http://www.mcdonaldworley.com/transvaginal-mesh-lawyer.htm