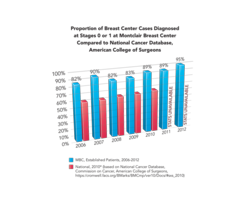 "By taking the time to educate our patients and develop a true doctor-patient relationship, we hold the key to early diagnosis, as shown by our latest patient study statistics", says Dr. Elliott, founder of Montclair Breast Center.
Montclair, New Jersey (PRWEB) March 27, 2013
Montclair Breast Center announces 2012 Patient Outcome Studies indicating early detection of breast cancer at a rate significantly higher than the national average.
In 1998, Dr. Nancy Elliott, founder of Montclair Breast Center, made the difficult decision to become an out-of-network breast center. She says that she had become increasingly disillusioned and frustrated by the dictates, restrictions and limitations imposed by corporate health care providers on the time and quality of care she felt her patients deserved. She even takes issue with the word "provider," feeling that physicians are being reduced to a commodity in an effort to decrease patient expectations for quality care.
According to Dr. Elliott, her progressive and comprehensive breast imaging and surgery center required the freedom to spend as much time as necessary with patients in order to communicate with them and treat them effectively. Dr. Elliot feels her decision has resulted in steadily increasing rates of breast cancers detected at the most treatable Stage 0 or Stage 1.
According to patient statistics carefully maintained by Montclair Breast Center, of patients who began and continued their screening at Montclair Breast Center and were diagnosed with breast cancer in 2012, 95% were diagnosed at the most treatable Stages 0 or 1, while the national average for such early diagnosis in all women is just 60%.
Rather than abiding by the requirements of health care corporations and operating within standards Dr. Elliott considers substandard to her own, her dedicated team of nationally recognized breast specialists decide what services and procedures are appropriate for their patients, including digital mammography, breast ultrasound, breast MRI, stereotactic breast biopsy, bone density testing, genetic testing, breast surgery and more. Patients receive a same-day personal consultation with a breast-imaging specialist and any additional studies that are required are performed while patients are still in the breast center.
For more information about Montclair Breast Center and the 2012 Patient Outcome Statistics, visit Montclair Breast Center, or call 973-509-1818.
About Montclair Breast Center: Montclair Breast Center is a premier, multidisciplinary breast center, specializing in proactive breast healthcare, risk-reduction techniques and the early detection and treatment of breast cancer. Our nationally recognized, dedicated team of breast imagers and breast surgeons use the most sophisticated technologies and are committed to providing better breast care than anywhere.
About Nancy Elliott MD FACS: One of the first Fellowship-trained breast surgeons in the United States, Dr. Elliott is Founder and Director of Montclair Breast Center. She completed training in breast disease at UMDNJ/Robert Wood Johnson University Hospital. She received her medical degree from Mount Sinai Medical Center and completed a general surgery residency at St. Vincent's Hospital, in New York City. Dr. Elliott graduated with honors from Barnard College, Columbia University. Dr. Elliott is well known not only for medical expertise in the field of breast disease evaluation and treatment, but particularly for her sensitivity and commitment to her patients. She has been honored by the New Jersey General Assembly and Montclair Economic Development Council as "Outstanding Woman of the Year in Science," for her distinction as the founder and director of the Montclair Breast Center and as a "superlative physician who exemplifies the spirit of caring and compassion." Dr. Elliott lectures extensively on breast cancer to professional and public groups and has had numerous appearances on national TV as a breast cancer specialist. She is a member of many professional societies including the President's Council of the National Breast Cancer Coalition and a member of the New York Metropolitan Breast Cancer Group. She recently received the "Luster for Life" Award at the 32nd Annual American Cancer Society's Diamond Ball and was voted "Top Doc" by her peers in NJ Monthly magazine, 2012.