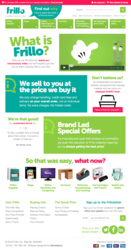 This is a brand new way of selling to the end user and could very well change the way we purchase in the future
Hull, East Yorkshire (PRWEB UK) 27 March 2013
Office supplies reseller, Frillo, has launched a new website which is set to revolutionise the way businesses buy products for the office.
Every item featured on Frillo is sold at-cost to the end user, with no mark-ups or hidden fees. Customers simply pay a small handling, credit card and delivery fee on their overall order, cutting out the middleman.
East Yorkshire entrepreneurs, Gerard Toplass and Mike Drewery, established Frillo at the end of 2012. Since then, they have been working alongside suppliers to bring this new purchasing concept to the market. At a time when businesses are working hard to reduce overheads and improve efficiency, Frillo's unique, open and honest approach is already proving popular and, on average, is 25%-30% cheaper than competitors.
Gerard Toplass, CEO of Frillo, explains the Frillo concept in more detail: "All consumers understand there are charges for arranging orders, organising deliveries and processing transactions. The Frillo model is completely open, honest and transparent. Customers pay the wholesale cost for the item, the cost for delivery and the finance costs for credit cards. A very small fee also applies for arranging this process. This is a brand new way of selling to the end user and could very well change the way we purchase in the future. Our aim is to help customers fully understand the costs they are paying, whilst offering them products at the best price possible. By operating solely online, we are efficient and can supply goods to the customer quickly to save them time and money."
Mike Drewery, Managing Director of Frillo, takes up the story: "We are delighted with the response we've received so far from both suppliers and customers. It's our aim to bring suppliers closer to end users and introduce a brand new way of selling. Price comparison tools are at consumers' fingertips nowadays, so resellers need to work harder than ever before to offer the best products at the cheapest price.
"When businesses purchase stationery and other office products from traditional resellers, they are often lured in by cheap copier paper or other loss leaders, which gives perceived value for money, and then stung with higher mark-ups on other items. The Frillo concept is simple – we don't add any margin to our products, ever. We sell every product at the price we buy it and our customers can be confident they will save money.
"Businesses spend hundreds of pounds each year on office supplies and a high percentage of that cost is paid in hidden, indeterminable, mark-ups. We believe Frillo is a clearer, easier way to purchase. Our ambition is that during the next two years we will have reached truly national status and we are already planning to diversify by introducing the Frillo concept into a wide range of new markets – watch this space!"
Frillo supplies a wide range of office products ranging from stationery and paper to furniture and computing equipment. The transparency of the business model and honesty in the pricing structure hands power back to the consumer who before now, found it difficult to really work out whether something was 'good' value. Now it's simple, if customers buy something from frillo, they buy it at cost price.