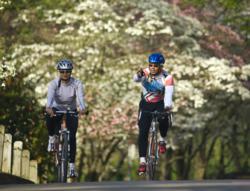 At the heart of the Festival are the region's spectacular dogwood trees, which can be seen on over 60 miles of Dogwood Trails.
Knoxville, TN (PRWEB) March 27, 2013
Springtime in the East Tennessee River Valley is magical. Delicate new life emerges and the region seems to explode with color.
For more than half a century, Knoxville has celebrated the natural and cultural beauty of East Tennessee with the annual Dogwood Arts Festival. From March 25 through April 30, the Festival will feature a vibrant mix of blooming gardens and trails, culinary and visual arts, crafts, theater, dance, music, film, and literary arts. "At the heart of the Festival are the region's spectacular dogwood trees, which can be seen on over 60 miles of Dogwood Trails suitable for driving, walking, bicycling and photography," says Erin Slocum, Marketing Manager, Dogwood Arts Festival. "Thanks to the hard work of homeowners, visitors will see beautiful rock gardens, dogwoods, azaleas, irises, tulips, Japanese maples, blooming Pampas grass, nandinas with bright red berries, weeping cherry trees, and more."
The Dogwood Arts Festival features a variety of special events, including Rhythm N' Blooms which will be held on April 5 to 7. Traditional mountain music from the hills of Appalachia evolved into what is today categorized as bluegrass and American Roots. Rhythm N' Blooms celebrates Tennessee's role in American Roots music by featuring performances by local and national artists of country, jazz, blues, bluegrass, and rock. Another featured event of the Festival, presented by Legacy Parks, is Outdoor Knox Fest on April 19 to 21. Headquartered at the Outdoor Knoxville Adventure Center at Knoxville's Volunteer Landing, the three day event offers an array of activities for people of all ages and levels of experience, including guided trail rides, runs, hikes and paddles showcasing Knoxville's outdoor amenities with a spotlight on Knoxville's Urban Wilderness, a 1,000 acre urban playground only minutes from downtown.
Great Smoky Mountains National Park is known for its astounding wildflower diversity. The 63rd Spring Wildflower Pilgrimage will be held this year from April 23 to 27, when the forest is just gearing up for the growing season. Although years and blooming dates vary, April is typically one of the best months to see the group known as the spring ephemerals. This group of flowers blooms early in the spring, taking advantage of the abundance of light on the forest floor before leaves in the forest canopy fully open. Visitors during this time of year will see a marvelous diversity of flowers including spring beauty, toothwort, Jack-in-the-Pulpit and many species of trillium and violet. This five day event consists of a variety of motorcades, photographic tours, art classes and indoor seminars. Visitors check in at the W.L. Mills Conference Center in Gatlinburg to register for programs in the Park and in various venues in Gatlinburg.
The River Bluff Trail and Small Wild Area, located on the Tennessee Valley Authority's Norris Dam Reservation, features old growth, hardwoods, pine plantations, rich pockets of wildflowers and ferns, and steep bluffs overlooking the mist-covered Clinch River. The River Bluff Trail is a moderately difficult, 3.4-mile loop, known for its spectacular array of spring wildflowers, especially yellow trout lilies, celandine poppies, bloodroot, spring beauties and toothwort, in late March and early April. The 30th annual spring wildflower walks will be held on Saturday, March 30 and Saturday, April 6.
Trails and Trilliums, an annual event for hikers, wildflower enthusiasts, and families, will be held on April 12 – 14 at the historic Monteagle Sunday School Assembly in Monteagle, TN. Key events of the three-day festival include 15 guided hikes on a variety of the South Cumberland's most beautiful trails; the Cumberland Wild Forum; a native plant and art sale, plein air artists, music, garden tours, photography workshops, and special experiences for children.
Take a look at the East Tennessee River Valley Geotourism MapGuide to learn more about these outdoor spring events and other geotourism opportunities and find out what makes this region a National Geographic Destination. Download the free mobile app and sign up for our newsletter.
The East Tennessee River Valley Geotourism MapGuide, a partnership in sustainable travel and tourism with National Geographic, is an online planning guide to a region "Where Rivers and Mountains Meet," from the Smoky Mountains through Knoxville, Chattanooga and North Georgia. The MapGuide is a program coordinated by the Southeast Watershed Forum, a nonprofit organization helping communities protect and enhance their land and water resources.