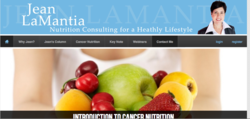 I am thrilled to finally launch my site and can't wait to start delivering valuable content
Toronto, Ontario (PRWEB) March 29, 2013
As a program leader at Wellspring, Cancer Support Agency, Jean LaMantia hears first hand the questions that cancer patients, survivors and caregivers have regarding nutrition. She also hears that most cancer patients are not receiving the answers to these questions to the extend that they are seeking.
"I know that the service that I provide at Wellspring is valuable, but I wanted to reach others who have questions about nutrition during and after cancer treatment".
The newly redesigned web site http://www.jeanlamantia.com will offer regular webinars and interviews designed with the needs of cancer patients, caregivers, survivors and nutrition practitioners in mind.
"I am thrilled to finally launch my site and can't wait to start delivering valuable content".
In addition to webinars and interviews, the site will also feature a blog with recipes, and current information on nutrition and cancer. A newsletter will deliver valuable content direct to subscribers in-boxes when they sign up.
Those who will benefit from visiting the site include cancer patients, survivors, caregivers, nutrition and health professionals.
Jean LaMantia is a registered dietitian and cancer survivor. The Essential Cancer Treatment Nutrition Guide and Cookbook is her first book and is written for cancer patients, caregivers, health professionals and others who care about their health and good nutrition. It is available wherever books are sold. She also has valuable nutrition information available on her website http://www.jeanlamantia.com.