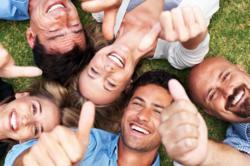 The product has reached a real maturity. It simply works better than other CRM systems...
Leesburg, VA (PRWEB) March 26, 2013
BPA announced the release date for its SharePoint 2013 version of BPA CRM. It's a huge step forward in terms of design and ergonomics. The new interface is attractive, intuitive and easy to use and will make any user eager to get their hands on it.
Not only is the design superb but BPA CRM contains more than 30 components making SharePoint and BPA, together, the best CRM tool in the market today.
"The product has reached a real maturity. It simply works better than other CRM systems because it is based on SharePoint. It's faster to implement, easier to use and a way less expensive in terms of TCO. It covers more than 80% of the needs at 20% of the cost." says Dr. Boris Lutz CEO at BPA Solutions.
The first version coming this spring will have equivalent capabilities & features as BPA's SharePoint 2010 version e.g. multi list data viewer, intelligent form editor, multi list mail merging, multi list query tool, mass emailing, reporting tools, connectors and many other features.
The next version coming later this year will include additional features in terms of enhanced marketing automation, streamlined document management and simplified components. "We recently had to select among more than 300 feature requests from our customers and partners. We had to define priorities for the next coming 2 releases" says Gilbert Nicolet, VP of Technology at BPA Solutions.
About BPA Solutions
BPA Solutions is a leading global provider of business applications and solutions that enhance and extend Microsoft SharePoint. BPA is a private company, self-financed, and profitable since its inception. BPA is a Microsoft Certified Partner and has a growing network of partners worldwide.
Based on the flexible and extendible BPA xRM platform, out-of-the-box business applications include BPA CRM, BPA Quality, BPA Project, BPA Risk, BPA Recruiting and BPA Self-Service. All applications and products can be deployed on-premise, in-the-cloud or hybrid.
For more information, please visit BPA Solutions on the web at http://www.BPA-Solutions.net.
About SharePointXperts
Led by recognized SharePoint technology and sales veterans, SharePointXperts was founded on the belief that if you take the best SharePoint talent, and allow them to work in a positive rewarding environment, you will create lasting relationships with both your employees and customers.
For more information please visit SharePointXperts online at http://www.SharePointXperts.com.