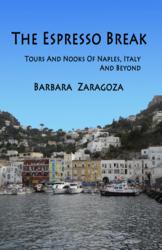 Although the stereotype of Neapolitan women may be that they remain dedicated to private life, whenever you take a sharp left or drive down a narrow street, the public lives of Neapolitan women jump out at every corner
Chula Vista, CA (PRWEB) March 27, 2013
March is Women's History Month when we celebrate women's economic, political and social achievements from the past and present. Naples, Italy celebrates International Women's Day alongside the rest of the world, but "The Espresso Break" can bring you the Odious Women Tour of Campania all year long.
Written by Barbara Zaragoza, The Espresso Break: Tours and Nooks of Naples, Italy and Beyond, profiles fifteen odious women, beginning with the siren Parthenope and ending with the life of Sophia Loren. The women were either born or lived in the Campania region for a time and are important historical figures worldwide.
The three day tour through the lives of these women begins with a definition of an odious woman: a female whose beliefs, words or actions were objectionable, or even considered despicable, during her time.
"I wanted to give visitors an interesting way to tour the city. Searching for the remains of Queen Joanna I, wandering the gardens where the first female physician Trotula studied, or reading about the illusionist Eusapia Palladino while having a beverage at the Magic Café, all re-energize what it means to be a traveller," says Zaragoza.
As you wander through downtown Naples, you learn about the gambling addict and opera singer Isabella Colbran. At the palace of Caserta, you can view a picture of the queen who King Ferdinand IV said 'sweat like a pig.' To accompany the muttering sybils, Zaragoza includes a list of the many after-dinner digestivos consumed within the region.
The guide contains eight other tours, including to the mythical burning fields, the ancient ruins of Pompeii, Herculaneum and even has a tour of the parallel underground city and Neapolitan espresso. Another thirty insider sights range from getting a key from a custodian to see a Mithras sanctuary to visiting a street filled with graffiti.
New York Magazine mentioned Zaragoza's blog, The Espresso Break, as the website for hidden gems in Naples and Kirkus Reviews said, "In this readable, entertaining information guide for tourists, Zaragoza takes readers from the heights of Mount Vesuvius to the ruins of Pompeii and beyond. Part Atlas, part history lesson, part epicurean review, this comprehensive handbook to Naples is without peer."
About
Barbara Zaragoza spent three years blogging about Naples, Italy and writing about off-beat destinations throughout Europe. She has a Master's degree in European history from Harvard University and enjoys exploring local histories, myth, and travel to lesser known destinations. For more about the author, the book, and Naples travel, go to Naples (Napoli) Travel Information Guide.