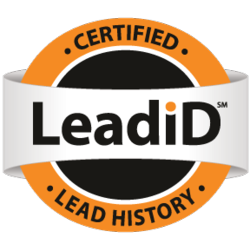 Las Vegas, NV (PRWEB) March 25, 2013
LeadiD, the first and only independent, neutral platform that collects definitive information about the origin and history of an online inquiry, today noted that the lead generation industry voted with their feet -- orange feet to be exact -- at the 2013 LeadsCon Las Vegas conference. More than 300 executives from buyers, sellers, aggregators, agencies and third parties alike donned their orange shoes to show their support for the #OrangeKicks grassroots movement started by LeadiD in 2012. With more than 30 firms purchasing #OrangeKicks for their own teams, it's clear the standard has been set.
"Wearing #OrangeKicks is a professional and personal commitment to bring trust back to lead generation," said Rob Rokoff, LeadiD Vice President of Business Development. "The #OrangeKicks movement is a subtle yet clear cry for confidence, clarity and trust. With nearly triple digit growth in only six months, it is unmistakably a movement that is gaining momentum and hitting its stride."
In the summer of 2012, LeadiD lauched the #OrangeKicks revolution, a grassroots movement led by industry peers including lead creators, agencies, aggregators, call centers, third party technologies and lead buyers. At 2012 LeadsCon New York, the first showing of the movement, more than 100 industry peers rocked #OrangeKicks on stage, on the show floor, in private meetings and industry networking events.
Want to join the movement? Additional information can be found at orangekicks.com. If you want to see which friends, peers and industry leaders are rocking #OrangeKicks, click here or check #OrangeKicks on Twitter. Send us a photo of you in your #OrangeKicks and we'll add you to the album.
About LeadiD
Founded in January 2011 by Ross Shanken, LeadiD is the only independent, neutral, open technology platform, which tracks the origin and history of every lead event that utilizes the LeadiD system. No supplier-proprietary data is exposed, but rather, LeadiD allows Lead Sellers and Lead Buyers to make real-time decisions based upon definitive origin and history flags that are predetermined. LeadiD fosters an environment of trust in the transaction, one where both Lead Sellers and Lead Buyers alike derive top-line value. With unmatched data, LeadiD is the industry standard for authenticating lead origin and history and the authentication platform of choice for firms of all sizes. For more information, visit LeadiD.com.
###
Media Contact:
Natalie Stopko
Director of Marketing
marketing(at)LeadiD(dot)com