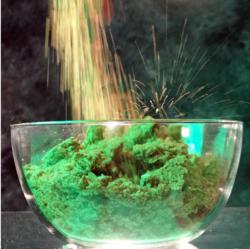 Add-Here 3200 from TIC Gums reduces or eliminates the need for sugar as a binder in foods like granola bars.
White Marsh, MD (PRWEB) March 27, 2013
TIC Gums will introduce Add-Here 3200 to the Asian food manufacturing industry March 26-28, 2013 at the "Food Ingredients China 2013 Expo" inside the Shanghai World Exposition and Convention Center, booth 1J03/1K02.
Add-Here 3200 is a hydrocolloid system that reduces or even eliminates the need for sugar, honey or high fructose corn syrup for binding, hold and shape in products like granola bars. Cereal clusters like these rely on the binding qualities of natural sweeteners to retain their forms. Add-Here 3200 closely mimics the stick, hold, texture and stability lost when traditional sweeteners are reduced or removed and replaced with artificial types. Granola cereal clusters made with Add-Here 3200 demonstrate how the texture and appeal of fully sugared cereal and similar products can be closely mimicked or even improved upon with gums and gum systems. This is important as so much of the pleasure of eating is derived from texture and not flavor alone.
Replacing Sugar Is Not Enough
Replacing sweetness can be accomplished with high intensity sweeteners like aspartame or stevia. What is not easy to replace is the texture, stability, gloss, stickiness, and film forming attributes sugar provides that is used to construct and hold separate ingredients together. Dissolved sugar provides these because it is a solid. These solid properties are what bind the parts of the granola together. Add-Here 3200 is a proprietary line of hydrocolloids that replaces the texture and binding qualities needed but with significantly less sugar. Add-Here 3200 delivers other functional benefits as well.
Reduced sugar content in breakfast cereal and similar food products can potentially result in the loss of taste and textural appeal when compared to that of fully sweetened products. Identifying hydrocolloids that can substitute the texture lost when sugar is removed is now possible. Add-Here 3200 is proof.
Spray-Able and Soluble
The Add-Here line of products is easily dispersible and readily soluble in cold water with viscosity low enough to be spray-able. It can also reduce drying time by as much as 20%.
Changing Demographics and Tastes
Education and affluence in Asia are on the rise. With these changes come changing eating and snacking habits. Between-meal snacks are one of the emerging trends for people with more demanding work and home schedules. As the populations in countries like China move from the countryside to the cities, packaged foods will replace those once grown or purchased from local marketplaces. Supermarkets replace the street vendors. A more educated populace is also more aware of the need for better nutrition and calorie management. "The changing demographics in China are driving demand for more nutritional packaged foods," said Greg Andon, president of TIC Gums. "Western style eating habits also bring challenges. More incidence of obesity will drive demand for food with less sugar. Add-Here 3200 is a way to replace the texture and stability lost when dissolved sugar is removed."
About TIC Gums
TIC Gums is a global leader in advanced texture and stabilization solutions for the food industry. Food and beverage companies rely on TIC Gums to improve the texture, stability, consistency, nutritional profile, and shelf appeal of their products. Legendary customer service, high quality standards, and the unrivaled knowledge of our Gum Gurus® has made TIC Gums the industry leader for more than 100 years.