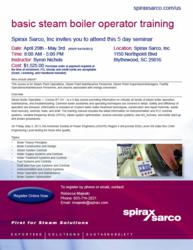 Blythewood, South Carolina (PRWEB) March 27, 2013
Spirax Sarco, the leader in products and services for steam systems, is excited to announce their latest training event: Steam Boiler Operator Training. This five-day course is being held on April 29 – May 3, 2013 at Spirax Sarco's state-of-the-art training facility in Blythewood, South Carolina where participants will learn virtually all facets of steam boiler operation, maintenance, and troubleshooting.
Instructor Byron Nichols, will cover common boiler auxiliaries and operating techniques. Information will be included on modern boiler water treatment practices, construction and repair methods, waste heat recovery, controls, fuels, and draft. The training manual includes the latest information on instrumentation and PLC controls systems, variable-frequency drives (VFD's), steam system optimization, reverse osmosis systems, low-NOx burners, and boiler start-up and shutdown procedures.
On Friday, May 3, 2013, the American Society of Power Engineers (ASOPE) Region 4 will provide Entry Level 3 class thru Chief Engineering Level testing for those who qualify.
Those interested in this upcoming Steam Boiler Operator Training class should register immediately as seating is limited. Participants can register for and learn more about this training class at http://www.spiraxsarco.com/us
The cost of the five-day course includes exam, licensing, and handbook.
###
About Spirax Sarco, Inc.
Spirax Sarco is the world leader in steam system management. The Company provides a broad range of fluid control products, engineered packages, systems expertise and site services for its diverse range of over 100,000 industrial and institutional customers. The Company helps its customers to optimize production capacity, reduce energy costs and emissions, improve product quality and enhance the safety of their operations. Spirax Sarco has strategically located manufacturing plants around the world and employs approximately 4,700 people, of whom around 1,300 are direct sales and service engineers. Further information can be found at http://www.spiraxsarco.com/us.