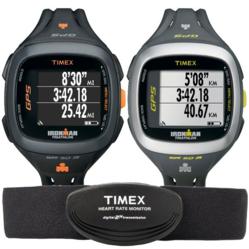 The foot pod, or accelerometer watches are starting to go a bit extinct because they lack distance accuracy in any situation where there is stride variation
Bozeman, MT (PRWEB) March 26, 2013
The 5 best GPS running watches for 2013 have been named by the Heart Rate Watch Company.
"This year we are naming our 5 best GPS running watches and later we'll name the non-GPS variety", says Rusty Squire, President of the Heart Rate Watch Company. He adds, "The foot pod, or accelerometer, watches are starting to go a bit extinct because they lack distance accuracy in any situation where there is stride variation, such as mountain, long ultra distances or even hilly courses."
Here are the 5 best GPS running watches for 2013:
#1 - Garmin Forerunner 910XT - The Garmin 910XT offers 14 hour-plus battery life even at one second recording intervals so it can tackle 5k to 100k distances with battery to spare. "Garmin 910XT syncs up with foot pods for cadence, does outstanding post-run maps and is very accurate; its a great pacing tool", says Squire. It also can be used for virtually any outdoor sport and even does swim metrics as an added bonus.
#2 - Suunto Ambit - Suunto Ambit is a phenomenal running watch, especially for trail running, mountainous running and ultras because of the battery life. "Of course both of our top two picks use barometric altimeters which is key to accurate altitude and can help GPS accuracy as well", says Squire. He adds, "We use the trail running selection on the exercise menu and it has worked very well, it also hooks up with the Suunto foot pod and has ANT+."
#3 - Garmin Forerunner 610 - Garmin Forerunner 610 is one of the better GPS running watches since its introduction two years ago. It is still the only touchscreen navigation watch and does all the basics well, has great screen customization and more.
#4 - Timex Run Trainer 2.0 - Timex juiced the new Run Trainer 2.0 and it is a nice step up from the version number one. The screen clarity is much improved and it accepts foot pods for cadence only, plus the navigation menu is much more user friendly. The GPS acquisition is much faster, you can reverse screen colors and it also has nutrition alerts.
#5 - Polar RC3 - The Polar RC3 is Polar's first ever integrated GPS watch and there are new Orange and Tour de France versions due out by late May. The watch has Polar accurate heart rate and calorie data, plus pace and distance.
"These watches represent the cream of the crop for GPS running watches for 2013," says Squire. He adds, "Unless Garmin sneaks a product announcement in on us just prior to the Boston marathon then this list will stay firm although we would not be surprised to see them launch a new Garmin Forerunner 210 or a Garmin 610 model at this year's Boston Marathon."