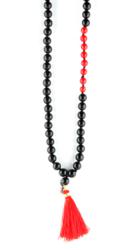 New York, New York (PRWEB) March 25, 2013
As part of its exciting 2013 Spring Collection, Karma Mantra introduces several dynamic handmade Japa Malas in its Eastern-inspired accessory line. Used by sages for centuries, Japa Mala beads steady the mind during meditation and help build individual power and energy. Traditionally used by Hindus and Buddhists, a mala is usually made from 108 stones, or other numbers divisible by 9, as a way of keeping count while reciting mantras.
Karma Mantra CEO & Founder Romell Bhaala has found a unique way to make these exclusive designs as fashionable as they are inspirational. Each stone personally procured from Romell Bhaala's global travels, these sacred beads are paired with hand-selected gemstones and other accents, making them both beautiful and powerful.
3 New Creations…
Black Onyx and Coral Japa Mala. Cascading approximately 35", these gorgeous 8mm ebony and coral gemstones embody deep positive energy. Black Onyx delivers stress relief and detoxification, while coral provides both emotional and physical regeneration. An eye-catching cardinal colored tassel completes this exciting mala, making you empowered with a stylish edge.
Black Onyx and Turquoise Japa Mala. Approximately 37" in length, our dark and curious 8mm onyx stones are illuminated by their aqua-colored companions. Black Onyx is commonly used to obtain objectivity and inspiration, while turquoise—often called the "truth stone"—offers calming and detoxifying effects. We then add a feathery turquoise tassel for an additional daub of color. This gorgeous mala delivers energy and elegance to the most casual or formal ensemble.
Blue and Red Goldstone Japa Mala. These tranquil blue 7mm beads fall approximately 33", with crimson colored stones splashed throughout. This earthy piece is then adorned with a wispy golden tassel, adding flair and fashion to this musing accessory.
---
About:
Karma Mantra offers a unique and comprehensive line of Eastern-inspired products that support a holistic, eco-friendly and spiritually-informed lifestyle. Our products are exclusively sourced and hand-selected by our team from artisanal fabricators worldwide. We take great pride in ensuring that our products are original, authentic and of the highest quality. Karma Mantra's handmade jewelry collection specifically offers pieces that are as bold, spirited and fashion-forward as our distinct clientele. Our accessories seek to elevate both energy and elegance.