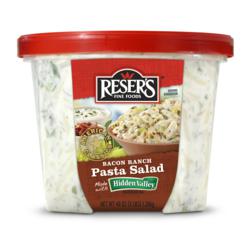 "When we added Hidden Valley® Ranch Seasoning Mix ...people went wild."
Beaverton, Ore. (PRWEB) March 26, 2013
Reser's combined two of America's favorite foods—bacon and Ranch dressing-- to elevate its classic pasta salad. Reser's new American Classics™ Bacon Ranch Pasta Salad is packed with zesty flavor, thanks to the addition of Hidden Valley® Original Ranch® Seasoning Mix.This gourmet pasta salad is studded with crisp bacon, mini penne pasta and zesty seasonings.
"When we added Hidden Valley® Ranch Seasoning Mix to our potato salad people went wild," states Lacey Werner, associate category manager. "We thought why stop there? Pasta salad lovers can now enjoy the same great seasonings in a salad that features mini penne pasta that's cooked to perfection."
This is the newest premium salad offering in the American Classics line featuring popular picnic and BBQ staples such as: Deviled Egg Potato Salad, Red Skinned Potato Salad and Ranch Potato Salad.
American Classics™ Bacon Ranch Pasta Salad Availability
Consumers can find the American Classics Bacon Ranch Pasta Salad in retail deli departments across the country. The pasta salad is available in 16 ounce and 3 pound containers ranging from $2.99 to $7.99 suggested retail price. It will also available as a bulk deli salad that will be merchandised behind-the-glass at retail deli counters.
About Reser's
Oregon-based Reser's is the leading North American provider of deli salads, fresh salads, side dishes and prepared foods. Reser's makes fun times easy and affordable for every family. Reser's famous potato salad is a family favorite at picnics, BBQs and tailgaters across the country. Founded in 1950 by Earl and Mildred Reser, the company remains privately owned and operated and committed to providing delicious foods for the supermarket and food service industries. Reser's employs approximately 4,800 people in 18 facilities in the U.S. and Mexico. Visit http://www.resers.com or http://www.hiddenvalley.com.