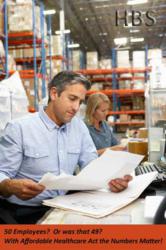 Columbus, Ohio (PRWEB) March 26, 2013
Obamacare 2014 Small Business Impact – Horizon Business Solutions Offers New Affordable Healthcare Act Assessment
Employee count and reduced absenteeism are pivotal financial factors in the new healthcare age. At the center of the debate is the simple question "What is a small business"? To accurately determine the size of a business one must read the 4,578 word reference document provided by the US Small Business Administration called "What's New with Size Standards". Additionally there are 11 links to those definitions that further clarify the size standards and another couple of thousand words that define the "Guide to Size Standards".
Boiled down to the basic definition beginning January 2014 the US Federal Government will define a small business as fewer than 50 full-time equivalent employees. Employees are considered full-time when they work 30 or more hours per week. This breaks with the past rule of a 40-hour work week and it is precisely that difference that has small business owners scrambling to understand the complexities of the new small business definition.
For most, it may be easier to follow the simple method of counting the number of heads in the room but for those on the border of 50 employees the answer to that question is worth a lot of cash! That said, according to the Kaiser Employer Health Benefits Survey90% of businesses with 51 or more workers already provided health coverage in 2011. The study compared that with businesses that employed less than 50 workers in 2011 and found that only 57% offered health benefits to their employees.
Relatively speaking 10% of businesses in the US will be affected by the new healthcare initiative. The debate on whether that cost will be better or worse rages on politically.
For business owners that are uncertain if they are included in the 10% gap or small businesses owners evaluating hiring decisions, Horizon Business Solutions(HBS) is offering a new detailed evaluation for a very small fee. HBS Financial Consultant, Kim Bolin says, "For those companies on the edge of the 50 employee mark, the new employee classifications can be dizzying! We want to help. The majority of our accounting business is in the Columbus, Ohio area but we have opened this new service up to the entire US." He goes on to say, "We want to be part of the solution, not the problem. Whether you agree or disagree politically this change is coming at us and we want American businesses to succeed."
There are some basic facts that every business owner should consider. First, if a business has fewer than 50 employees it is exempt from having to provide health insurance and/or the associated penalties. To put that in quantitative terms the vast majority of businesses in the United States have fewer than 50 employees. In 2007, 5,814,584 firms had fewer than 50 employees, compared with a total just over 6,049,655 firms. In other words, 96 percent of U.S. small businesses are specifically exempted from fines on employers who don't insure their employees.
Second, in an effort to move the country to a fully health insured population the Affordable Care Act provides incentives in the form of tax credits to those small businesses that do provide health insurance. Tax credits are available to employers with fewer than 25 employees who are paid average annual wages of less than $50,000. If the employer pays for at least half of the insurance for workers, the employer gets a tax credit for part of the contributions. Those tax credits start for the 2010 tax year, and they increase in 2014 when more provisions of the healthcare law take effect.
Although less cited, another benefit to the Affordable Healthcare Act is the predicted lower absentee rate for small businesses that elect to provide healthcare coverage. According to the Centers for Disease Control and Prevention, "In the face of rising healthcare costs, there is growing recognition that preventing disease and maintaining good health pay significant dividends to business. As individuals, we value good health; from an economic perspective, US leadership in the global economy depends on the health of the workforce. Even modest improvements in the health status of US workers could increase the nation's GDP by $905 billion by 2023 according to one study. Corporate interest in workplace prevention and wellness program has increase substantially." As employee gain access to healthcare the hope is that productivity will increase.
For more information on the Affordable Healthcare Act call Horizon Business Solutions at 614-577-1700 or visit their website at http://www.horizonbiz.com.